Online survey comes of real use for those looking to receive feedback from all corners, be it their customers, their employees, or from any other relevant source. We bring you 10 such free software or online survey app that can give you what you so look for. Let us take you through the 10 best online survey apps and tools that is looking to change the face of 2022. Survey creators who fetch feedback collected from their target audience would help you identify what works best and what won't and sheds light regarding how they should improve the complete experience.
Be it gathering customer insights or product opinion or conducting market research along with surveys on employee engagements, these surveys online can enable in deriving business acumen.
Let us check 10 best online survey software that could create a difference in your business:

piHappiness is the one of the most effective tools for survey, this software allows you to turn boring feedback collection means to pleasant interactions. This cost-effective maker of survey assists you to create surveys that are totally engaging also presents an experience that is chat like using simply your smartphone. Let's check some of the features that survey platform offers and also understand why this is considered as one of the best online survey software in market.
You could send online and NPS surveys that come with multi-device compatibility.
Get your surveys white-labelled by adding more of your brand visibility through brand colours and logos.
Complete all the customization of your surveys with CSS along with vibrant survey templates you could choose from.
NPS survey-benchmark your NPS score and check your NPS scores stand against all the prominent global companies.
This is a friendly and conversational user interface that has resemblance towards the messaging app. You could either pick a template or even create one from the scratch. You have options like that of Display Logic, Drag and Drop, and much more to make it interesting for your respondents. As piHappiness comes with built-in automation, you could schedule re-surveying at continuous intervals also share the results throughout all channels with the help of their respective audience. With the help of this online survey sparrow, you could comprehend the data collected rather seamlessly, owing to the insights and data analytic report this survey provides.
SurveySparrow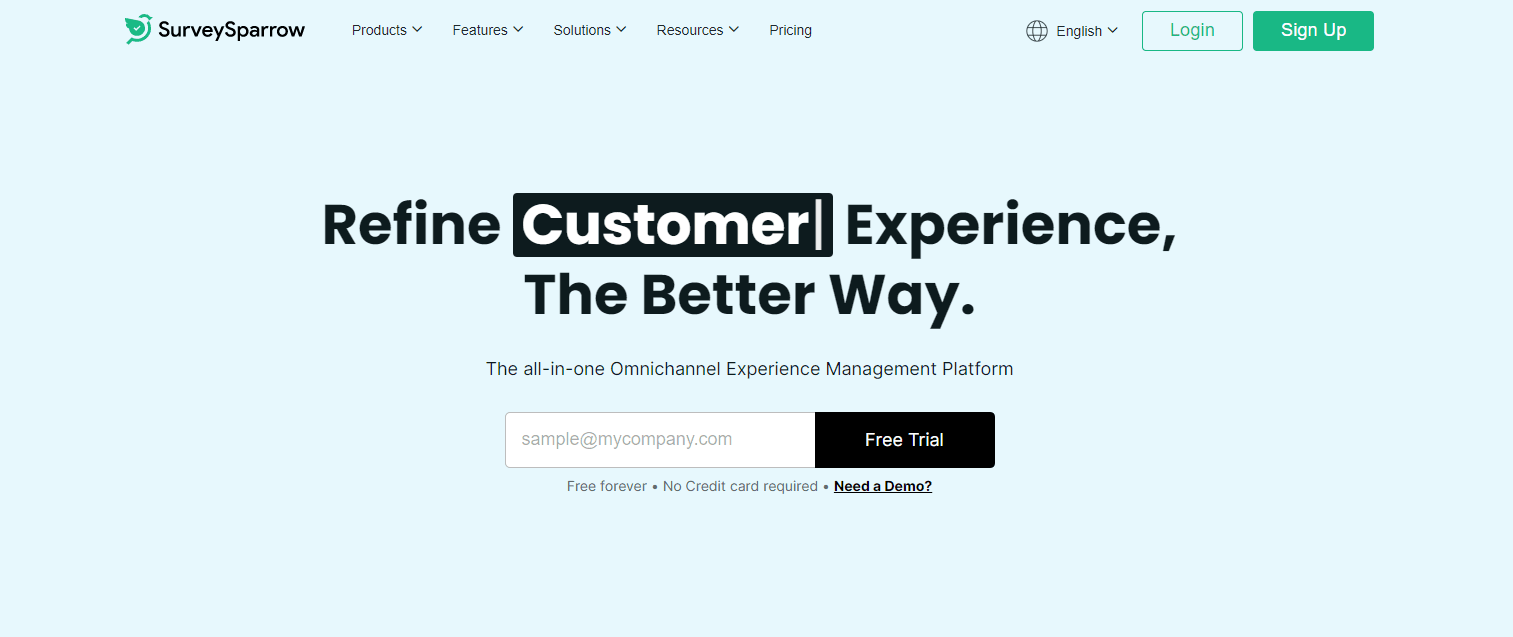 Technology-enhanced surveys are enabled through both laptops and mobile modes. As the Pandemic today has brought about a lot of changes in our mode of business interaction and communication, the online survey software or app installed from SurveySparrow can take you a long way in creating a meaningful interaction between your business and your endpoints. An exceptional technology comes with improved and enhanced customer experience causing the customers to embrace the technology with higher possibility than the normal mode.
Using different modes of online survey like personalised survey, QR codes, anonymous surveys, text surveys, social media, email surveys, and a host of others – you could easily receive customer insights without having to communicate one-to-one personally. Features like Net Promoter score (NPS) survey can help businesses gather deep customer insights. Tap within their database and benchmark your business against competitors and partners. Understand what Net Promoter Score is trying to tell you. This tool could be leveraged as one customer profiling score and ultimately improve customer experience. By introduction of newer technology, new methods of conducting surveys have been introduced by the software enthusiasts. This technology gives you easy access to CSAT surveys, mobile surveys and several other forms of surveys that could be used for better insight collection.
TypeForm
Typeform works as a Software as a Service (SaaS) that allows users to create their personal surveys. It can run smoothly on all the devices and comes with one unique interface that shows only one question at a time. The editor in Typeform helps you to drag-and-drop the form fields within the spots you pick. There is a version of the Typeform that comes with features like unlimited questions and responses, themes that are tailor-made, options of data exports also ready-made templates along with basic features of reporting for the world running at a fast pace.
Qualaroo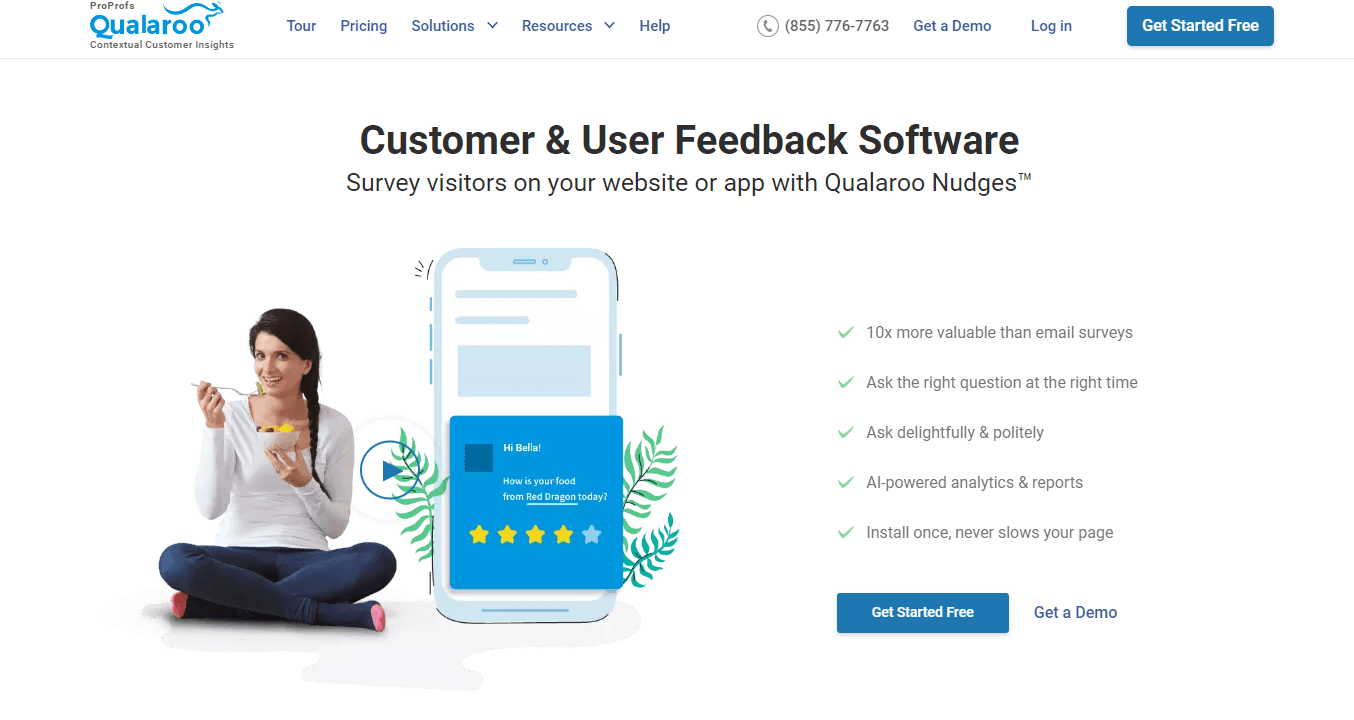 If you are looking to ask the right questions to the right people, Qualaroo can come as best survey tool the market can provide. It offers 40+ highly advanced targeting options so that niche customer actions and behaviour can be targeted on any channel like that of mobile browser, website, product, mobile app, etc. This complete feedback and user research platform allows you to collect feedback data with the help of unobtrusive nudges in survey. You could design focused surveys using the 12+ question patterns, skip logic, pre-built templates, survey languages, survey branding, along with a host of other features.
The tool also provides in-built AI featured analytical tools like that of the sentiment analysis engine so that valuable insights from the feedback data can be quickly extracted. Then, channel the mentioned insights into development of the product, research, marketing, plus other teams to better customer experience.
Qualtrics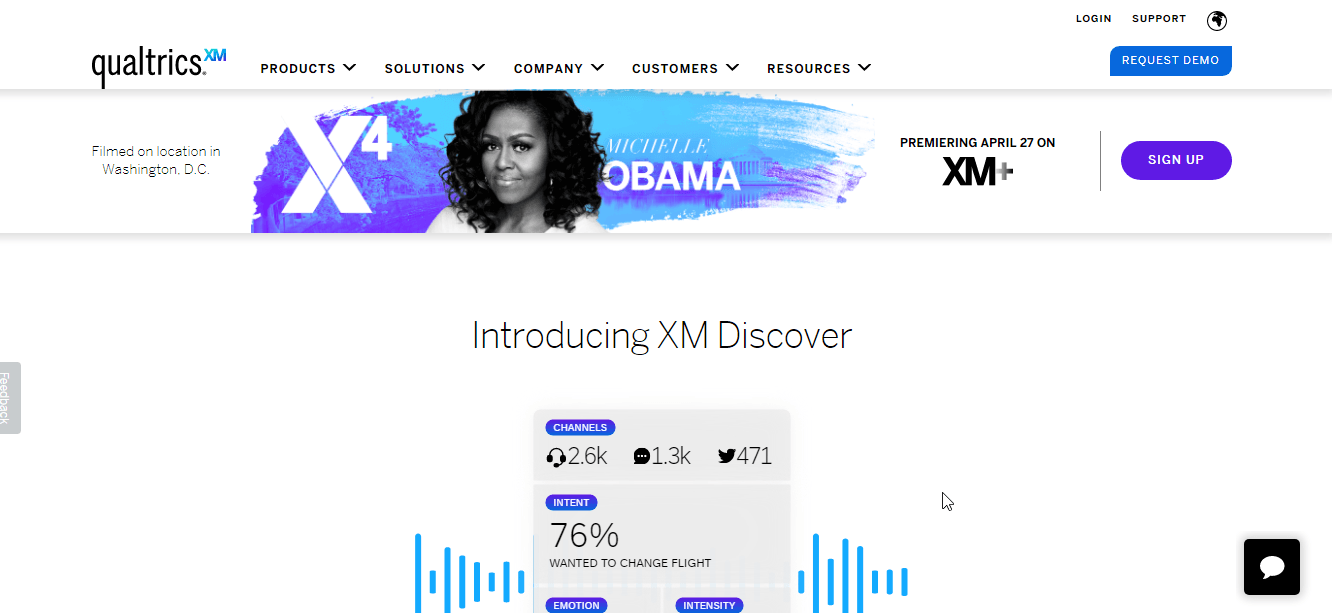 One powerful online survey app, Qualtrics pushes your limitations of the surveys conducted traditionally. Qualtrics offers almost 100+ kinds of questions, several survey templates that are ready-made. They won't stop with that, they helped enable features like logic branching, display logic and display logic for soothing experience. You could also pick from almost 30 different kinds of graphs plus export results to SPSS or CSV within their real-time reports offered online.
Google Forms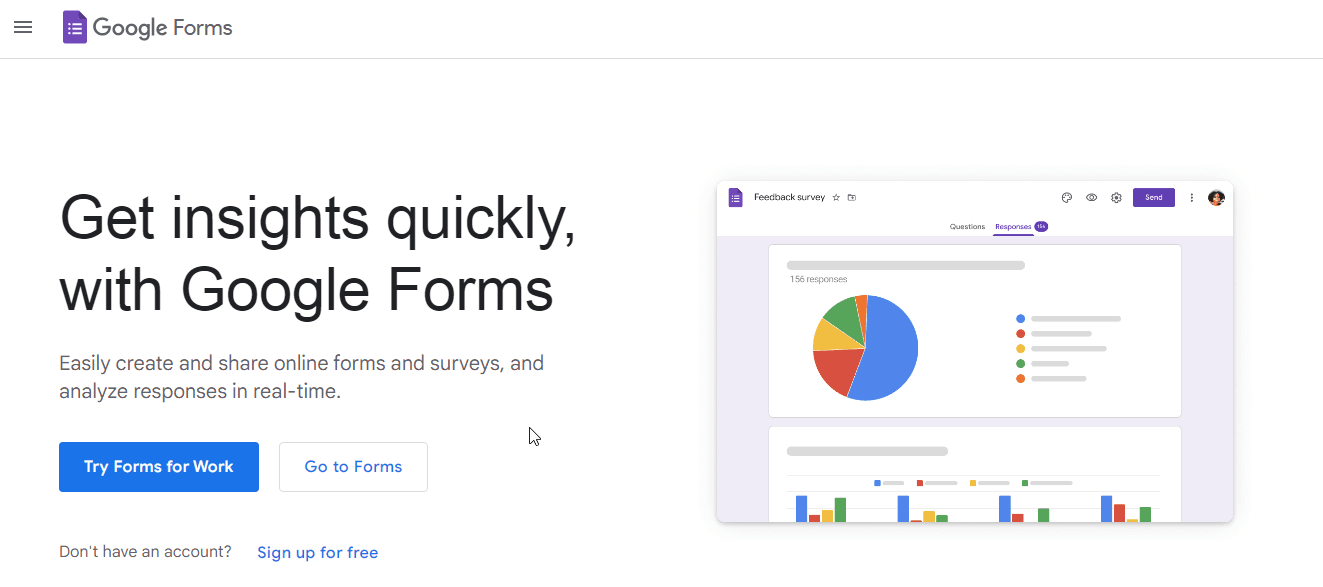 This is one of the best tools that allows you to put together all your surveys easily and quickly using the drag and drop environment of theirs. You could customize the survey designs also the platform provides chart and response information in real time. The best bonus is that the data collected could be synced with other products in Google.
You could gather everything within something like that of a spreadsheet also analyse the data in your Google Sheets. Using rules of data validation, the email addresses could be accurately formatted, and people could receive suitable questions for them. Google Forms work as an excellent quiz maker for professionals in the field of education.
Alchemer (Former SurveyGizmo)
This is an easily usable survey tool that comes with rather good automation abilities, like piping responses to the new questions, providing emails/notifications depending upon responses, and such. Moreover, it gives you a wide variety of question patterns and filtering possibilities to make sure that proper questions are being asked. It, however, comes with a high price tag and the reporting has some work still needed in it. Despite having an unpopular pricing, this online survey app still exists as one of the best survey apps in the market.
QuestionPro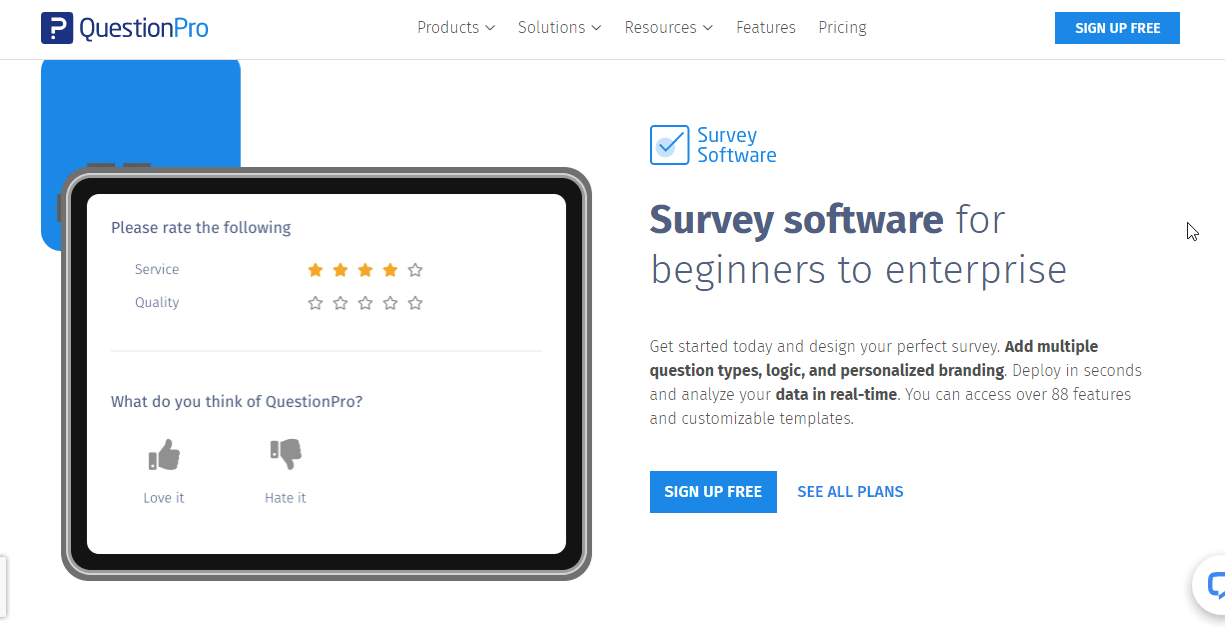 It's one of the leading online surveying apps. It helps you create efficient polls, surveys, and quizzes within few minutes. The robust, shareable analytical reports make it a wonderful tool for the businesses. The digital platform of survey offers multilingual surveys that are customizable, multiple templates of survey having more than 30 types of questions with provisions for branding for the users. However, the learning curve that is steep and sluggish customer support could hinder a seamless workflow.
Zoho Survey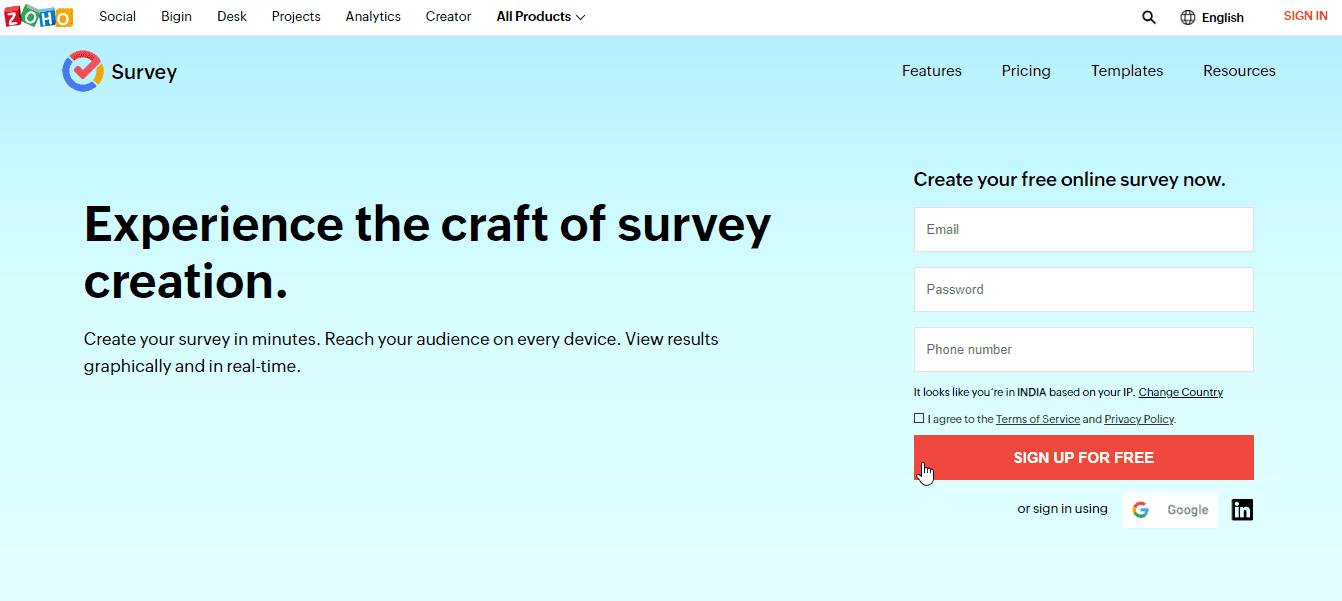 This is one easy-to-use online survey plus questionnaire building app. It comes with a rich array of features and is one very user-friendly tool. It will work without effort if you have basic needs but isn't capable of handling complex needs. This online creator of survey comes with range of templates, yet customized options are limited. Once you have outgrown the free version, you would need to bite the bullet also get standard version, something that is not the best. These survey tools haven't got the most modern interfaces.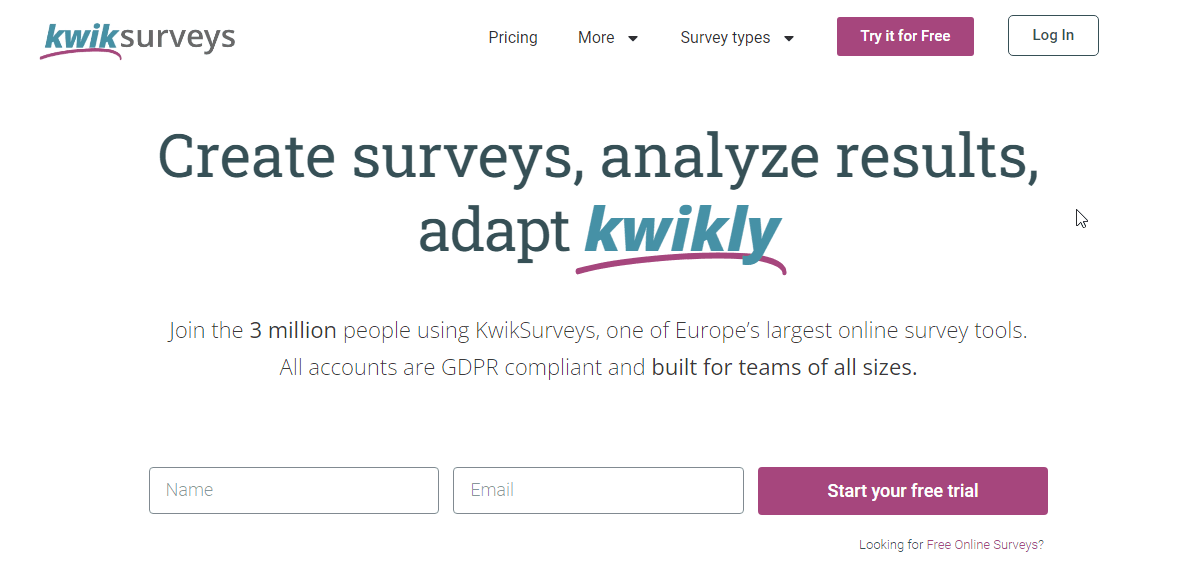 This is an extremely user-friendly tool, and anyone could seamlessly create a survey putting minimum efforts. The upgrades of this tool are rather costly with not many options on customization. Kwik surveys are rather too simple and often termed as boring.
Process of selecting the best online survey app
Several crucial steps exist that needs to be considered when you are thinking of choosing the right survey app. Merely throwing any survey into the space of web won't show as much effect as creating tailored questions for select audience. When the online survey tools would work within the large plus difficult portion of the work, you would require pitching in as what you should ask.
You need to control the questioning order you ask and who you are addressing it to so that you could stay away from confused and bored customers. For instance, if you conduct survey for the food industry, the target will have to be a particular section of the people that consume that particular food. Understanding your business and tailoring the questions and answers accordingly would ensure you are asking the right question at the right time and collecting the right kind of survey insights.
Concluding note – Deploying the surveys using best tools for online survey
Picking up the best kind of survey tools for the businesses could be quite daunting and demanding – considering most of these tools of online survey tend to provide most of the similar features. Even when there are definitely certain distinctions what you receive with one paid version and one that comes with a free online version of survey tool.