Curious how to create a business that grows multi-folds? Understand how the employee feedback softwares works best for your dreams to culminate.  
Imagine a situation where a customer is unhappy with your customer dealings and says as a brand you were superb at one point in time. Would you not put all your efforts together and create an experience that reinvents your brands relation with the customer much better?  
But you need to look into your system and understand that employee experience and the work around it what needs to be looked into to bring in the kind of customer experience you so desire to create. A customer is a neutral person and will never unnecessarily place negative impression on you unless your brand has managed to tarnish it. Let us check 10 best employee experience software that monitors your employee workability to enhance their skills so that you can improve your brand image.  

The culture of feedback has brought itself to become the most crucial aspect of any business. This is more so the case with those employees who spend maximum time of their day giving dedicated services to your businesses. Hence, introducing the employee feedback software within your workspace has turned into a highly significant aspect while running your business. Hence, introducing the employee feedback app also maintaining a robust work environment is the means to a business functioning to its complete ability. Some of the key features of the employee feedback software that helps you to pick the best one for your business are:  
It is easier to have a feedback system that is compatible for integration with the other software that you could be using, like that of customer feedback app. This makes it rather simple for your business to access information seamlessly also helps you in operating this software without needing to keep track of too many things at a single point.  
There are a host of other facilities that the piHappiness employee feedback software provides. However, seamless integration with customer feedback software is what makes it the most coveted and sought about.  
Zonka Feedback is an effective Employee Feedback Software and Experience Management App that you can use to measure Employee Feedback at every touchpoint of your company, increase communication, take action on feedback, reduce employee turnover and create a great organization culture.
With its ready-to-use templates, you can create customized surveys of various types like Employee Satisfaction Survey, Onboarding Feedback Form, Cafeteria Feedback Form, Washroom Feedback Form, Employee Transport Feedback Form, and more. You can send these surveys to your employees through multiple channels like emails, SMS, online, in-office tablets and kiosks. You can also measure employee loyalty and satisfaction with metrics like eNPS (Employee Net Promoter Score), Employee Satisfaction and more.
One of the great features is that you get real-time notifications and alerts about every survey response or the responses that fall in the criteria set by you like negative feedback or low ratings. This helps you to identify employee issues and resolve them on time, and close the feedback loop before it's too late and your employees start switching their jobs. You also get feedback reports in real-time to identify ongoing issues and eliminate them to build a healthy work culture. The tool also offers integrations with platforms like Zapier, Twilio, custom APIs and Webhooks.
SurveySparrow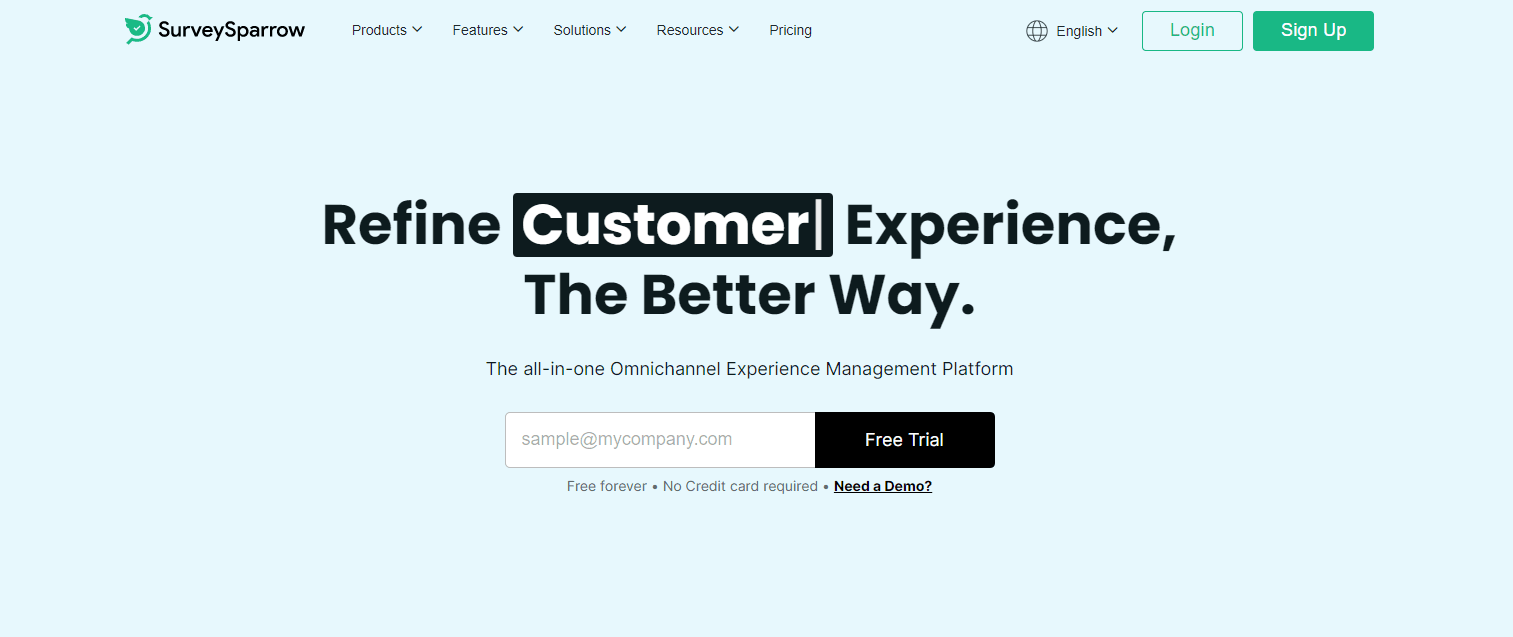 SurveySparrow works on employee experience management app that would cover every process within your gamut of employee experience. It is a platform for employee experience where 360- degree assessment solution gets exclusively designed to manage also take your business's employee experience towards the next best level.  
SurveySparrow has been designed towards engaging also keeping one healthy conversation between the employees also the business at the time of assessing them at a regular basis to identify those areas that need improvement and appreciation. This is the core craving every employee comes to work for.  
Yet another thing making SurveySparrow with 360-Degree software so absolutely amazing is because they made this from all the challenges, they faced on improving their own experience for employees. This employee experience software you would find solutions to every employee related issues.  
Qualtrics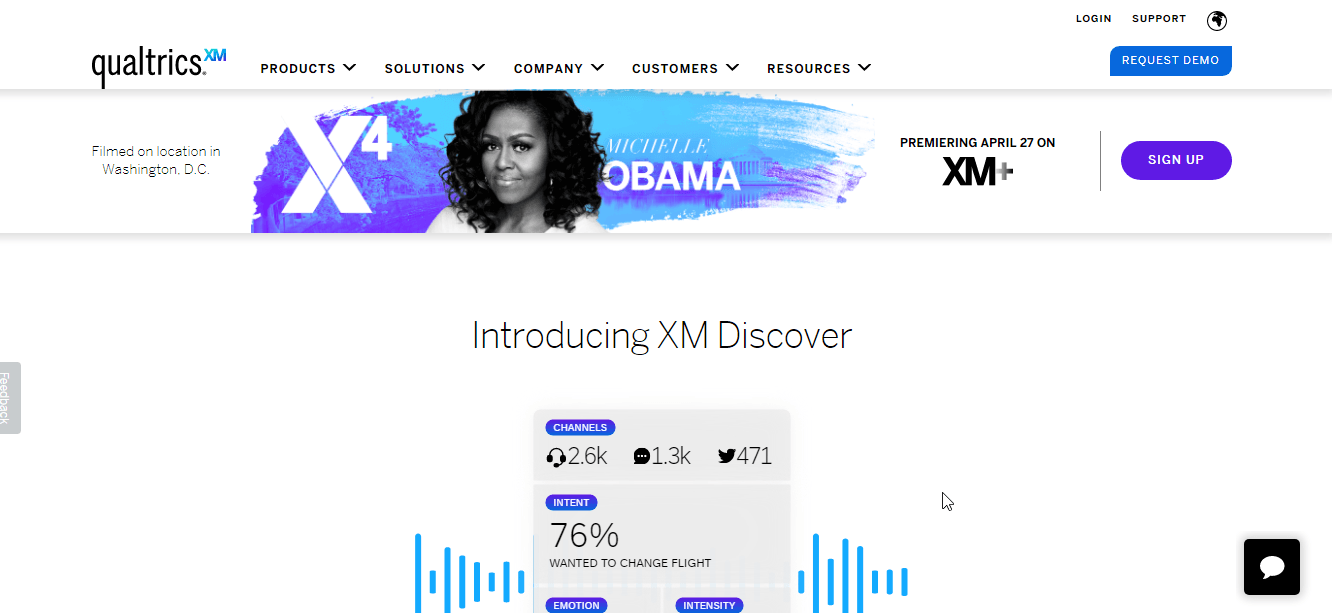 Qualtrics is also an employee experience management application tool that comes with great value plus results. They have extremely well researched solutions, clearly showing on their employee experience platform. Moreover, their detailed, powerful analytics have created an impossible situation for businesses function without them. Let us check some more reasons why you should consider Qualtrics:  
Employee feedback received from their application can directly map to the goals and requirements of their organization, so that everyone could see those insights that matter maximum.  
It allows employees provide feedback, whenever and however it suits them. It provides analytics driving action. You could spot all the problems like attrition early with addition to automated alerts at-risks. You could take immediate actions providing automated workflows that utilises third-party software integrations.  
Zoho Desk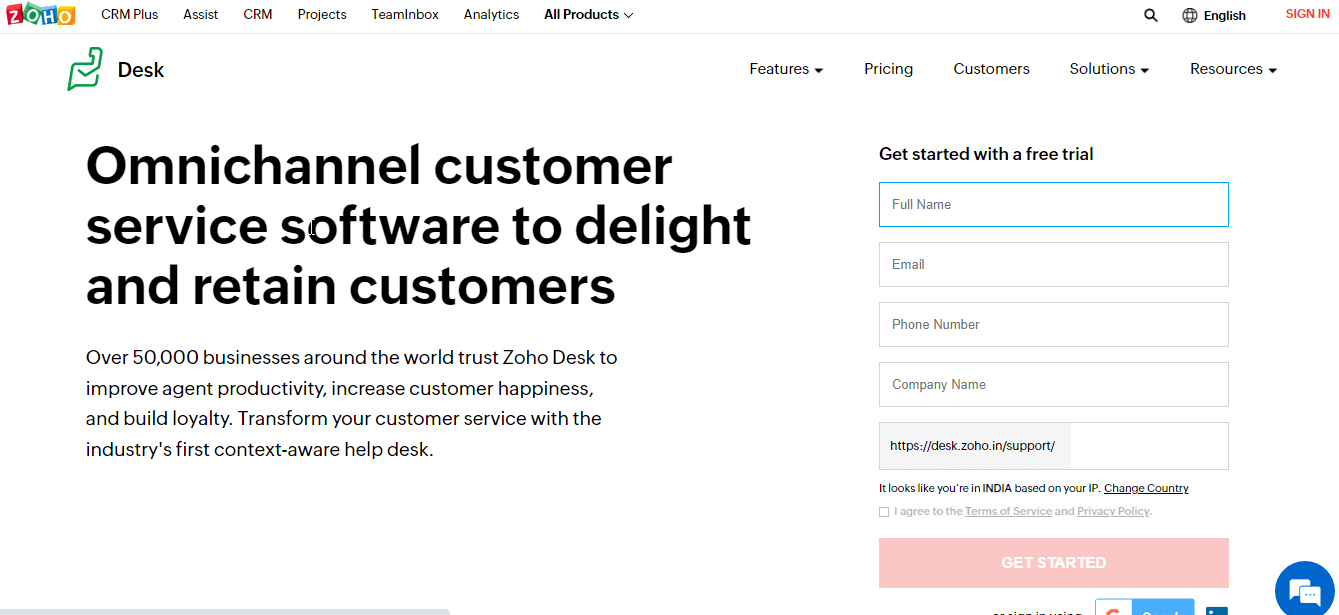 This is an online employee experience managing software and has come to be revolutionary. The reason mainly is their focus towards improving how the interact and work through the digital mode.  
After Covid 19, when the demand for hybrid work is to gain admirers, it is safe to mention this employee experience software is prepared for the kind of change. Some of the noteworthy features from the employee experience software work function are:  
Key attributes:  
Empowers all your IT members into providing higher value also positive experiences to the employees. Easily identify and then eliminate digital barriers so that employees can seamlessly use the employee experience software. It helps you give the right kind of employees at appropriate time. Correlating with the technical metrics added with employee sentiment towards delivering eclectic experience.  
Kudos  
Kudos is also an employee experience management app that provides innovative employee management and engagement solution to all kinds of businesses. The main focus of the software is to give right kind of employee recognition towards strengthening work culture, gradually driving higher ROI. The prime features of Kudos employee management software:  
Prime Features  
The software and the work mode encourage peer recognition towards driving better communication. Flexible plus customizable parameters and dashboards. Powerful loops on feedback along with manager reports. Manager plus user dashboards coming with deep insights based on business requirements. This platform is mobile compatible.  
Fond  
With Fond as an employee experience managing software, your rewards and recognition for employees gets easier. Basis our research, we would agree completely they simply are great at employee rewards and recognitions. The software can bring a culture of recognition for the organizations in any workplace also on social scales, providing empowerment to every employee, mainly so in the post-pandemic era.  
But that's not it, there are other aspects too that makes it an exclusive platform.  
Exceptional customer service experience at each step. Can build also track a recognition program from the beginning. Creating occasions of unique consequence that aims at improving employee experience. Reviewing in-depth and reporting on rewards plus perks redemptions. Receive Fond's immense inventory of products and rewards so that you could recognize and accolade your employees.  
15Five  
15Five is yet another employee experience management application that would focus on using the evidence-based methods and budding with positive psychology towards improving and managing employee experience. Your business will enjoy its day-to-day practices, designed towards employees so that they could promote clear plus consistent communication at an organizational plane. These are rather simple practices to carry on while you are promoting accountability followed by transparency on the back of better communication between employees and teams.  
The philosophy with the software makers is to enable employees and managers win at almost anything and everything they conduct. Since the onslaught of Pandemic, this software has been adding value to the employees also helping the business grow while employees are working remotely.  
Prime Features:  
Intuitive dashboard that helps managers to measure, support plus elevate the performance of the team in minimum time. Your HR team receives feedback in real-time from the employees also take immediate actions. The planning tools are interactive and inspire each one of us to take action also move forward. It comes with powerful analytics and asks for response in time wherever it is due. It comes with positive recognition strategy that shows boosting retention big time.  
Motivosity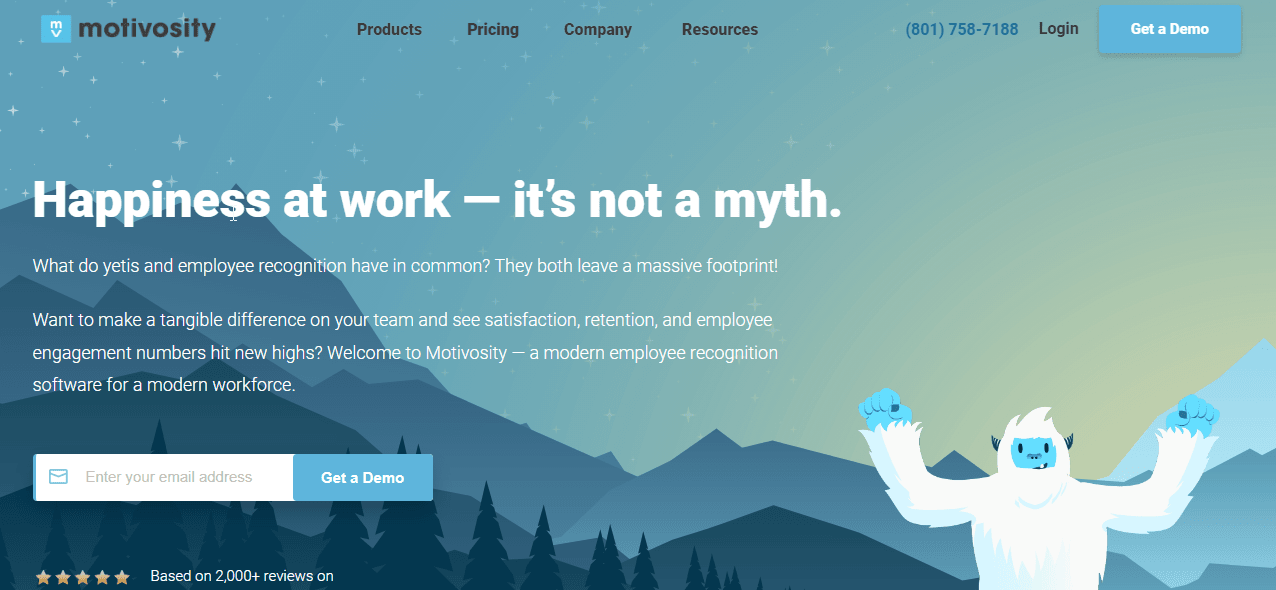 Keep your employees engaged from wherever they are. That is what this software claims to be its prime focus. There are 4 different solutions to this software – Connect, Recognize, Lead, and Listen to bring right kind of engagement for your employees, whatever be the size of the organization.  
Motivosity still comes with the right engagement and inclusivity tools to boost peer-to-peer plus overall communication towards enhancing company culture even when the organization is diverse.  
Prime features:  
There are automatic translations between 71 languages to boost the inclusivity. Recognition platform engages employees to recognize also appreciate each other offering real currency that converts into actual results.  
Massive collection of tools, right from succession planning to that of priority tracking to do better work. Power digital NPS surveys towards understanding every employee individually. Experienced team to help you at whatever situation and whenever you need.  
Quantum Workplace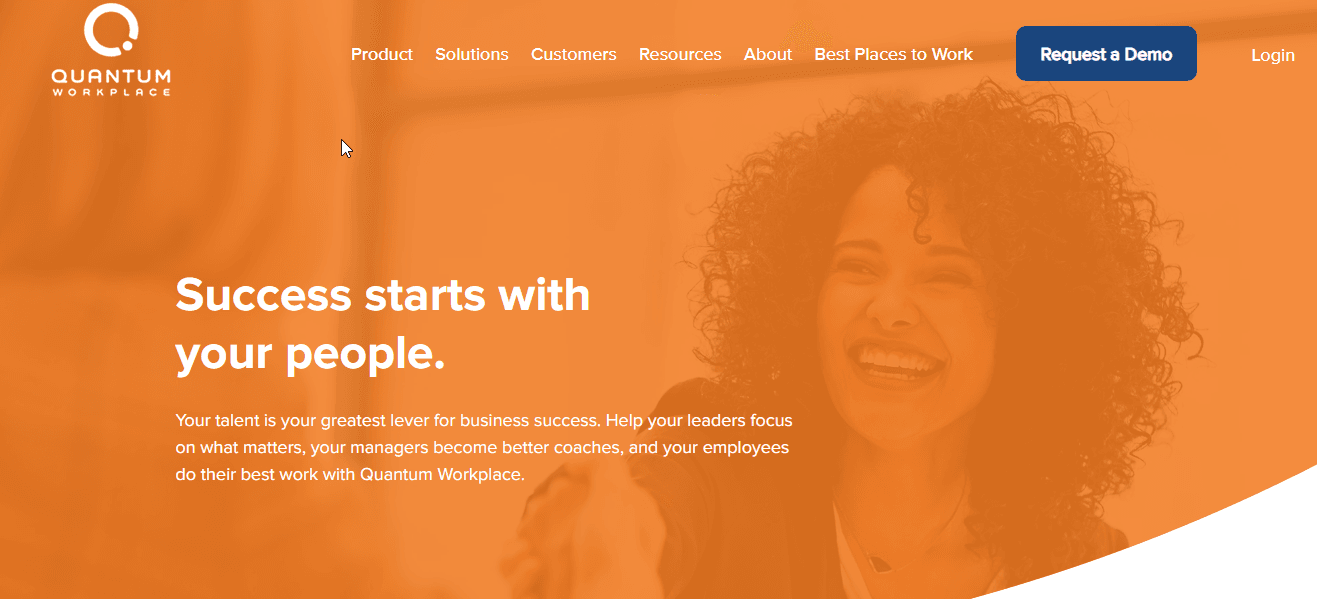 This app is dedicated to help all employees win at all and everything they do. They come with wide-ranging solutions for almost every employee engagement plus recognition requirements. They have called themselves "employee success software" and they have features that proves it right.  
Prime Features:  
Understand the key drivers that helps you retain with the powerful analytics they come with. World class tools of performance management to enable managers lead in much better. Identify retention reg flags using the intelligence tools they have come with.  
Employee performance devices help in developing future leaders. Employee survey solutions enabling gauging of team understanding plus obstacles seamlessly.  
Vantage Circle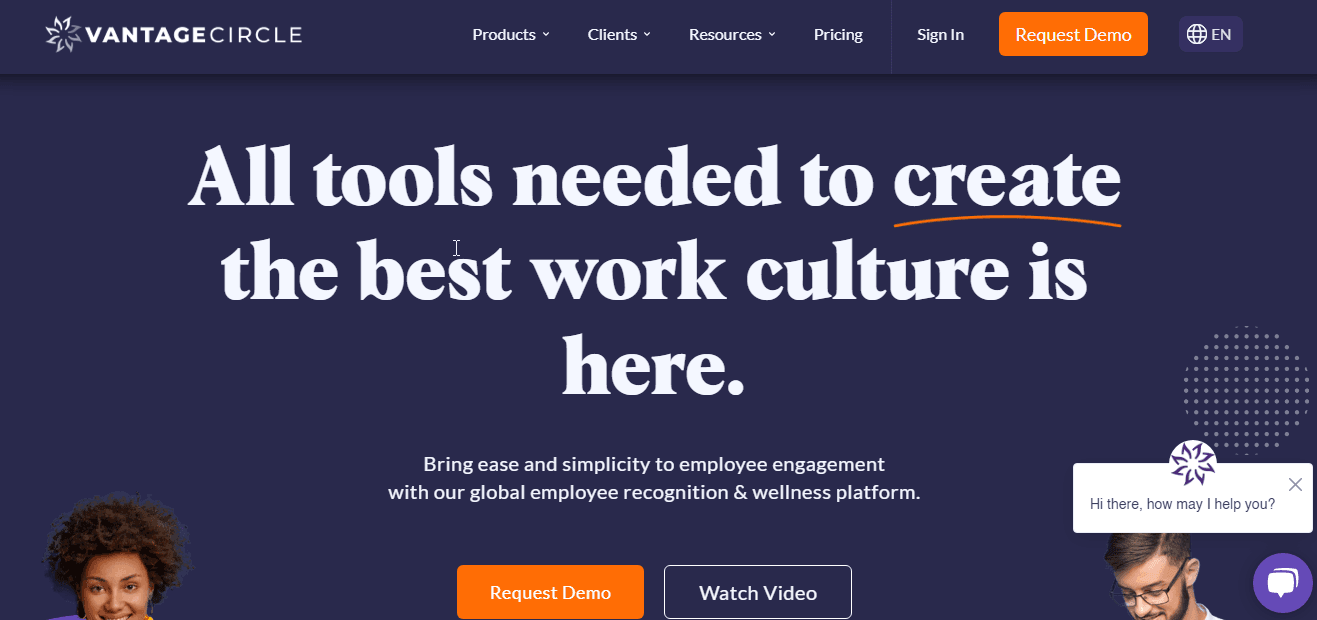 Vantage Circle comes as all-in-one employee experience app that focuses on creating better experience and engagement with the help of sturdy AI -powered devices. Our research says, it's an excellent employee-focused platform that would be using technology to create better organizational culture for its clients. Though there are several versions for this software, you could pick the one that meets your best match from the array. This freedom of choice is what makes them a unique platform.  
Prime Features:  
Employee engagement software suite that provides real-time appreciation. AI-driven programs on employee engagement to better organizational culture. Interfaces that are completely customizable. Intuitive dashboard that sets up specifically for your requirements and goals. Hassle-free integration options that is interlaced with the current HCM interface.  
To Conclude: 
The call of the hour is employee experience management. Then we worked on how a platform on employee experience would make it better. To gather understanding about employee experience management, we would need to understand employee experience at the outset. In most of the straightforward definitions, it covers a gamut all those employees feel, encounter or observe at the time of working with your business.  
With the 10 best employee management software, we fairly understand what employee management and experience signifies. Yet, working to improve it and manage better is a humongous task if you conduct manual operations. Hence, the calling for employee management software that could survey, analyse, also track whatever your employees feel regarding the business and your kind of work.