Your first purpose of communicating with the customer is to gather their feedback and the way of communicating has been constantly changing and updating. These recent changes in the global scenario have changed the dynamics where the society had to adapt to the evolving conditions. Whether it is your vendors or customers, avoiding direct contact has been the topmost priority. One of the best non-touch options for customer surveys has been SMS feedback surveys.  
SMS surveys are one great option to collect feedback remotely. SMS has a count of over a million people who collect plus receive messages, amounting to almost 65% of the total world population. Also, the rate of response of text messages is almost 209% greater than other modes like email also famous media segments like Facebook and Instagram. Hence, SMS survey apps are helpful for your business.  
Picking a good SMS survey software 
Selecting a proper SMS feedback software could be a daunting task that you must be experiencing currently. Finding the best SMS software could be tricky. For doing the task, you would need to find features of several tools. Let us explore certain great methods of SMS Survey Applications available in the market.  

piHappiness is one of the most efficient SMS feedback tools that work seamlessly towards creating a good space to understand customer insights. This brand is by far the most customer-friendly and cost-effective in gathering customer insight. It enables you to build wonderful Customer Feedback Surveys and also transfer survey invitations via SMS at several touchpoints in your customer journey. You could build customized surveys in your choice of design, background, colors, and white label to apply your personal branding plus style.  
SMS feedback app-laden surveys could be a great way of getting customers' insights on services and products since they remain contactless, and you can send them without network or internet connectivity. The process remains lucid and easy to conduct a one-click survey and send it to every customer through text message.  
Through SMS surveys you could gather the feedback much needed with mobile devices and also survey links also to reach the business' target audience easily and quickly.  
Delighted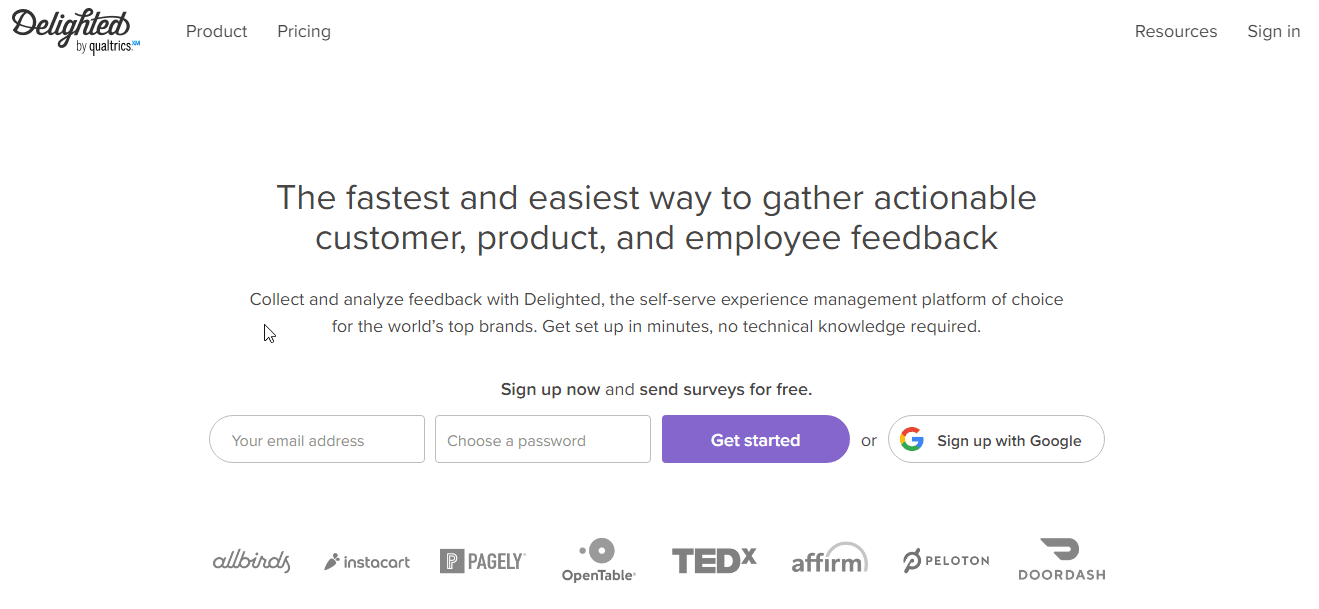 Delight is yet another good and amongst the most user-friendly SMS Survey software that would help you to gather user insights within minutes even if you don't have good technical knowledge. It is a simple software that is useful for businesses with all dimensions and sizes. It has the unique feature of smart scheduling that would help you in scheduling your SMS in a manner that they receive the text message involving survey invitation while in the daytime only.  
The conducted surveys could be sent on both flip phones, the old sturdy models, and the smartphones with 100 percent text that doesn't need any data plan. Code-free custodian of the said tool helps in creating simple surveys not involving any kind of messy coding to tailor-make your surveys. You could seamlessly customize the languages and questions of the conducted survey. It also comes with the feature of autopilot that automatically surveys all your customers as it sends them SMS surveys according to the specified intervals of time you mention.  
The feature of the Rest API helps in setting triggers to send survey text SMSs at several events of the customer's journey – things such as check-out, a delivery, or even a support interaction. With the feature of your mobile localization, you could even have your customers feel that their SMS have come from within their proximity. This feature will attract your customer more towards you as your familiarity with the customer's region makes them more comfortable.  
QuestionPro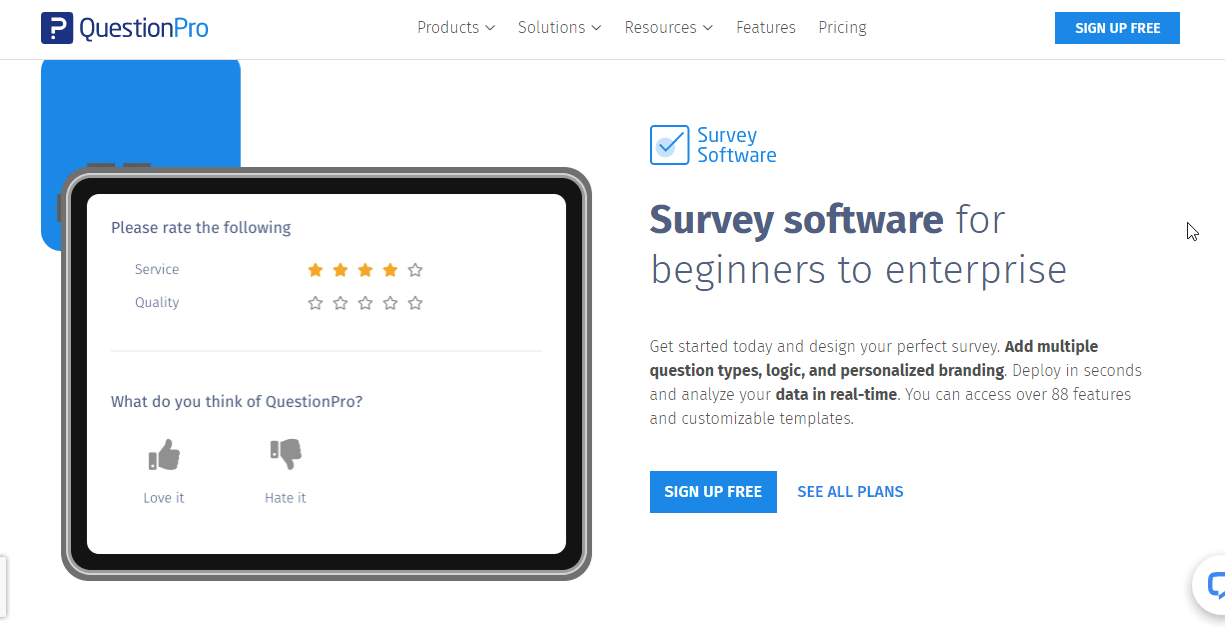 Claiming they are the leader of SMS Text Message Survey Software, QuestionPro would help you in creating and sending SMS surveys, collecting the data in real-time, and conducting effective analysis. It gives you 350+ templates of surveys that collect real-time data plus analyze effectively that comes with 40+ basic standard questions. It comes with advanced branding and logic and gives your customers a smooth survey experience with advanced logic such as text piping, survey branching, looping, and skip logic.  
It also comes with a visual dashboard that would enable you to filter your responses for a survey, GAP analysis, TURF Analysis, and Trend Analysis. You could download your reports in some formats like Powerpoint, Excel, PDF, or CSV raw data and share them with your teams.  
It gives a 2 Factor Authentication, a security attribute that eliminates false respondents. Once your respondent signs up, they are given a unique code through SMS post placing your inputting the same, their number gets verified and they could take the survey.  
SurveySparrow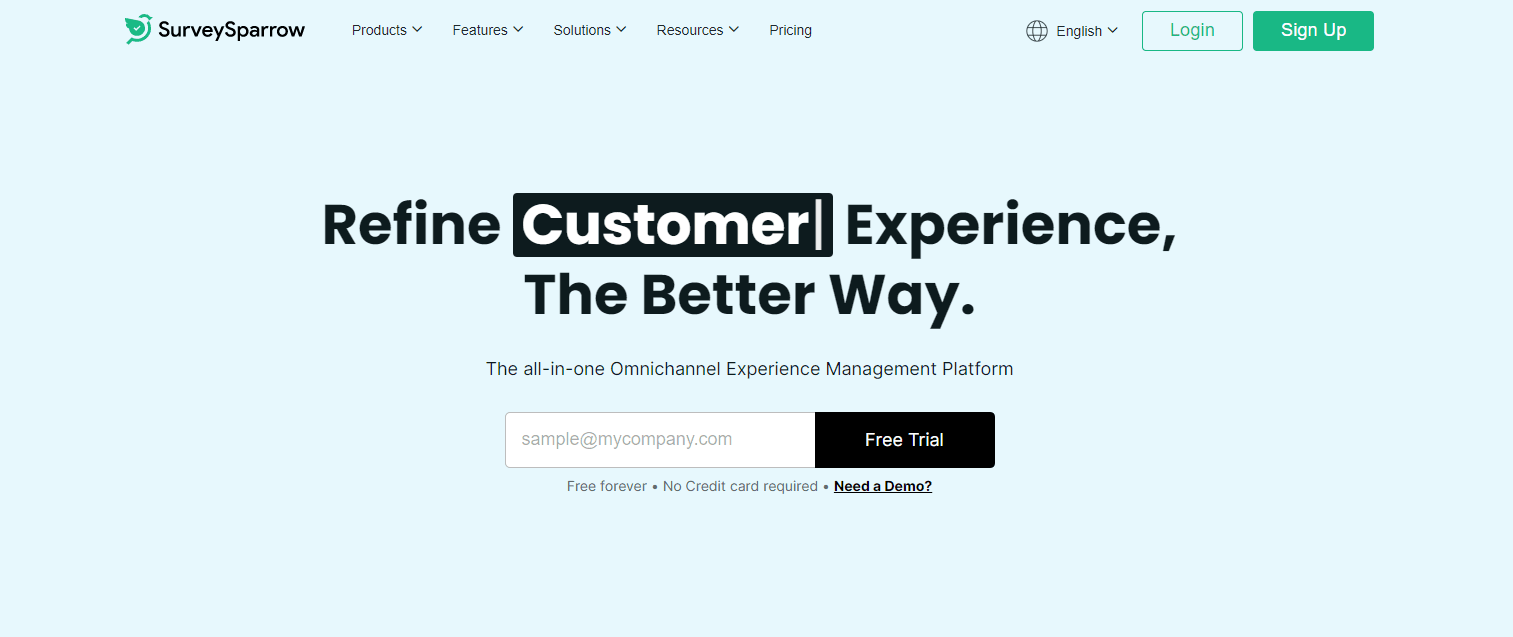 SurveySparrow is yet another great software that comes of help in creating engaging surveys towards gathering Customer Feedback and also sending them to your customers through text message. It enables your business in creating conversational plus engaging survey forms that could bring in huge response rates for your surveys. You could tailor-make your surveys using different themes and designs. You could also white-label your surveys plus add your personal branding also style to the surveys and their URLs. The customization would help you in making the surveys crisp, clear also to-the-point.  
Moreover, you could pick your survey audience from any of the lists or even share them straight away. The reporting module enables analyzing the survey data received plus tracking the performance of the survey easily. You could schedule the survey reports from the survey data that have to be sent to you at frequent intervals automatically.  
You could apply filters on all your survey responses to receive the report and the data you look for and compare all your responses with the tool's compare feature. The survey created are mobile-first module and can be easily accessed plus responded using the mobile phones.  
Survey Monkey 

Survey Monkey is another popular survey app or tool that gives you a fast plus easy way of connecting with people on their mobiles by sending to them mobile surveys using SMS. The survey created enables you to provide time-sensitive surveys via SMS at some ideal point in time to collect highly accurate responses, whether it is post-event or on-premises.  
Set your triggers to provide post-event surveys like your dining, onboarding the employees, a visit to the doctor or discharge from the hospital, or a CS interaction. You could easily upload your phone numbers from your CSV files, sync with your Active Directory, or manually. The tools come affordable plus cost-effective and all the surveys are optimized for all mobile devices so that you could easily open them and conduct your survey using mobile phones.  
GetFeedback  
GetFeedback is yet another tool that would help you in creating real-time quality feedback from your customers by sending survey invitations via SMS. The Automation within this tool helps surveys to be sent to the customers automatically post an interaction to provide real-time feedback.  
You could build sleek surveys easy for taking with your branding and share them with your users. You could also compare the response rates with the other channels of sending feedback like email to understand which channel is providing better performance for you. You could integrate with Salesforce to take instant action on your received feedback as your data is piped back to your Salesforce. You could send these SMS Surveys just after the buying, via calling the customer service, through appointment, with an event, or a flight, and so on.  
SimpleTexting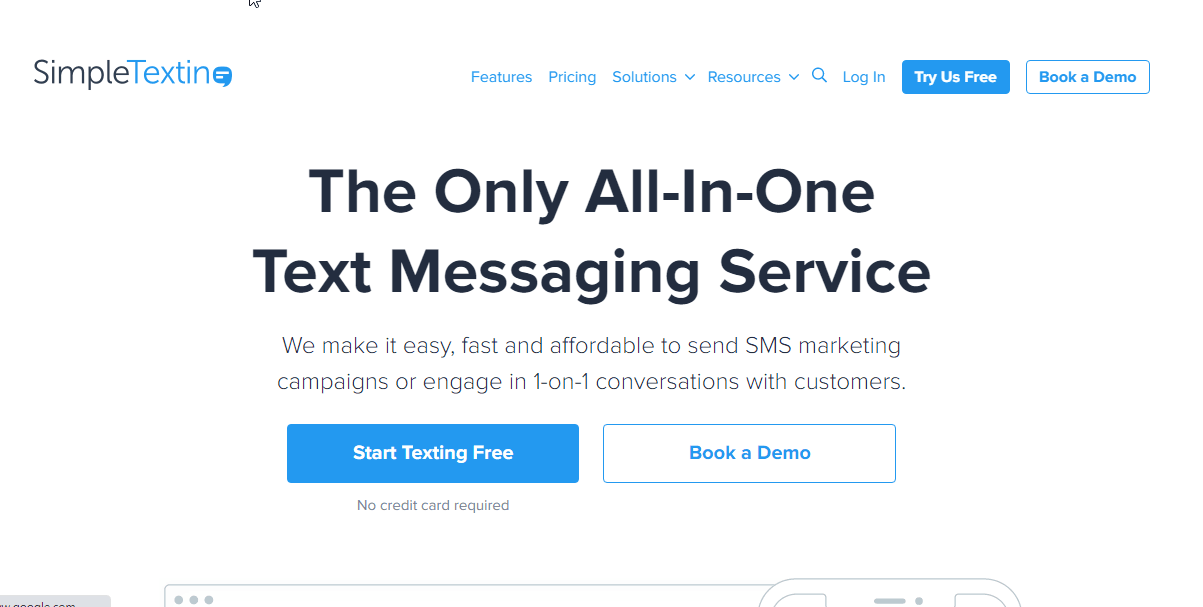 SimpleTexting is an exclusive Text Message Service tool that is designed towards sending bulk text messages regarding surveys and alerts. It would allow you to readily create text surveys and also collect feedback data with the text surveys. You could seamlessly send mobile surveys to several people in groups, collect customer votes and responses also tally results plus follow up with your respondents.  
If you would wish to collect employee or customer feedback through simple surveys presented through text messaging solely, this app remains a perfect plus east and affordable way of receiving responses. But since this software is merely a messaging software, it won't allow you to send your surveys via other channels like that website or email surveys, nor has the features like sending out multilingual surveys (the ability to send surveys in several languages).  
TextMagic  
This is yet another easy-to-use tool for SMS surveys that would help you to improve your Customer Experience and receive valuable feedback from any kind of audience. With TextMagic, you could schedule your SMS Surveys that need to be sent seamlessly to your customers when you decide. SMS Survey Data Analytics would help you in carefully analyzing the feedback data Alternatively export the software Dashboard and replies help to check the deliverability, performance, and responses of the surveys.  
The software also gives you six survey templates that are predefined for several purposes. It helps you to personalize your surveys through the addition of merge fields. Moreover, you could generate automated responses because of essential keywords in your customer responses. It comes with a preview tool that tests the survey you have created by taking plus filling your personal surveys first.  
SMS – Track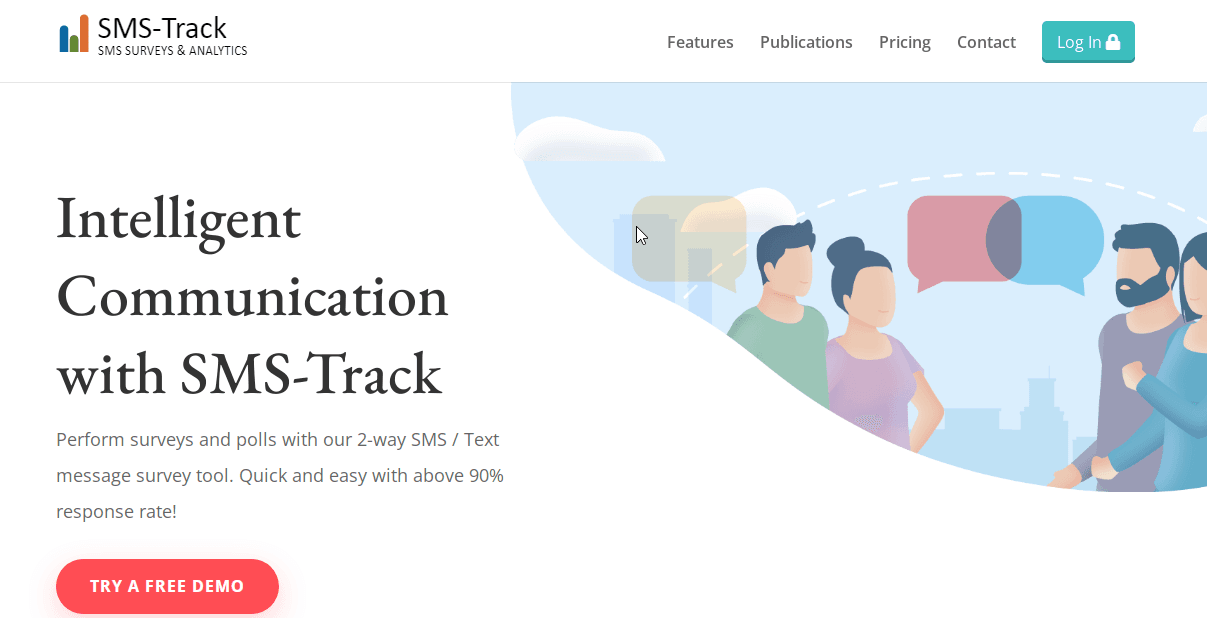 SMS -Track is one two-way SMS survey software that will focus on SMS communication and would help you perform all kinds of polls and surveys and receive a great response rate. This brand claims that the response rate of the survey conducted by it is 90 percent and more. This tool allows you towards integrating the text surveys with that the web surveys. It helps in monitoring the response of the customer in real-time and revert to your customers in just seconds.  
Moreover, it would help you present your survey results using a set of predefined graphs. You could easily create your personal feedback reports also export the received feedback data to your data analysis software. Schedule your SMS surveys to get sent according to your requirements with time.  
SurveyMill  
This one is a UK-based SMS feedback app that enables you to create and send fast plus effective SMS surveys. Using this tool, you could send almost 13 questions per every survey, which happens to be fair enough for an SMS survey. You could put any type of question that includes the yes-no type of questions, ratings plus plain text.  
With SurveyMill, you could see the response statistics for each question, which includes 10 words from that of the dropouts and responses from your surveys. The opt-out feature enables your customers to opt out of the surveys you conduct so that it helps you to see who has come out and keep your list updated. You could anytime download the survey reports in excel format and also analyze them for the other responses.  
Moreover, it would offer advanced credit facilities. You receive a dedicated shortcode when you would move towards a credit account. You could use the auto top-up feature to keep the software running smoothly also never run out of credit plus also share the top balance you possess.  
The Sum Up  
When you introduce customer feedback software in your business, you are enhancing the possibility of your brand visibility. The more your customers participate in providing customer insights, the more you know how to bring those essential tweaks to your business to create a niche space in your customer's minds. The recent developments around online working have stalled the physical mode of real-time feedback acquisition. Online mode has become predominant, where SMS feedback software is gaining traction owing to its functionality in the absence of the internet. Check these 10 best brands or businesses that are creating ripples in the market globally.