Until such time the internet came into existence, all businesses would send survey forms through email or post so that one could understand customer opinion and receive feedback. As there are different types of customer feedback software available for different types of needs, choosing the right one according to your requirement could be tricky. Therefore, this blog has attempted to compile a list of some 10 best customer feedback apps for your business. Check these 10 best customer feedback app that you could leverage.  
Understanding Customer feedback software first
Customer feedback app is mostly confused with CRM, but they serve several different purposes. CRM software gives you the permission to capture customer data from several sources, further store, process, also analyze the information. But, by using the customer feedback app, you would be in a position collect all thoughts and insights of your customers regarding your brand, product, etc.  
There are several purposes for which businesses leverage the feedback management software like understanding customer feedback, performing sentiment analysis, keeping a track of social networks, collecting all sorts of community feedback, formulating also distributing surveys, and so on.  
The greatest thing about these apps is the fact that they offer several variations like customer survey tools, software to analyze customer feedback, and the customer feedback software.  
You can use either one the matches your need or multiple tools together.  
It helps in analyzing the information collected regarding services and products 
Let us assume you are in this business of lead generation. Many clients would subscribe to your services however, they whether they find your services of benefit is a question you need to ask. Are your clients in a position to generate profitable leads for their businesses? Or are they looking to your competitor after the subscription has expired?  
With the help of customer feedback app, you could discover the gaps that come in if you track their buyer journey. The customer feedback software is your app to discover the gaps also ask feedback from customers to gain customer insight that is valuable. For instance, you could find out that clients would visit your resources section on the website, yet they do not find it being helpful.  
It helps you in creating a worthy customer experience 
You may be of the feeling that you understand your customers. However, it is only when you pass through customer insights, you could locate any kind of loopholes that exists in your products. If you listen to your customers, you will get an excellent opportunity that you gain your trust. If you can clearly identify what has to be changed, you could create a wonderful user experience and convert your clients to customers who are highly loyal.  
If you listen to your customers, it gives you one excellent opportunity to gather your trust. If you can clearly identify what needs to be changed, you could create one excellent user experience and convert your clients to loyal customers.  
Makes it rather easy to measure customer satisfaction 
Any business needs satisfied customers. They are not only loyal to the business, but they also encourage others to pick your service or product. The customer feedback apps allow you to measure your customer's satisfaction in all other areas than simply social media, including social forums and websites, using survey forms. You could then decide on your next steps based on the information received.  
Increase customer loyalty and retention 
Some of the popular reports state, by increasing the customer retention rates just by 5%, businesses could increase their profits between 25 and 90 percent. You can easily figure how important customer retention could be to your business if you figure out how expensive it is to gather newer clients rather than retaining the current ones.  
Platforms with customer feedback software conduct active listening further make sure that these customers understand the worth of their feedback. When businesses act on all the insights the software provides, you could reduce a marginal amount of customer churn and retain your profitability.  
Customer feedback apps, for instance, could enable you towards uncovering a problem that your customers have as these tools are laced with integrated features. This way you will make it seamless for your customers to use your service or product, which would increase your customer loyalty.  
Customer growth is from continuous improvement, something that brings down the churn. You could add more functionality towards your customer feedback app through integration of a changelog tool so that you could announce newer features, actions, or updates. These acts would encourage your customers to not move to a competitor.  
They contribute towards the improvement of your services and products 
Your complete team feels that your software tool is best of the lot. However, your customer might have some insights that can suggest how you can make it better. In case you fail to listen to their feedback, you would miss on an invaluable possibility of improving your product or service. With the help of customer feedback software that would help you in gaining insights from the user reviews, feedback forms, also user feedback, you could make all your product decisions rather wisely.  
How could you choose the most comprehensive customer feedback application? 
In response to this, you could create a blog post or even a new article on how-to for your knowledge base that would effectively write in detail the how to use features. While you do this, you would make it rather easy for your customers to understand how they would use your product, which would bring their loyalty up.  
Before you have decided on a customer feedback app, ensure you ask yourselves all these questions:  
What is the goal of using customer feedback app? Do you wish to see why your visitors abandon forms, also help in making survey forms that are insightful, or even have heat maps? 

 

What are some of the features that are absolutely must-haves for your brand? 

 

What is the budget you are planning? 

 

Are you seeking for any solution that comes with limited features or you are looking for some advanced solution? 

 
All the questions would help you towards making some informed decision. The best kind of customer feedback software should be able to make the process of proving convenient and seamless feedback for the customer.  
Let is check a list of some of the basic
customer feedback
features the software should possess: 
Communicating through multiple channels (live chat, social media, calls, or emails)  
Call recording/logging

 

Sending several surveys

 

Tracking interactions 

 

Reporting analytics

 

Ticketing and Storage

 
Top 10 customer feedback apps 

With piHappiness, you can monitor all your surveys also receive instant notifications right on your device. Your reports also the dashboards are at your fingertips whenever you need, so that you could explore all the data completely. Ensure seamless access to the summary of the survey information as you receive the best possible survey experience. With the piHappiness feedback software you can have analytics, real-time feed data and survey summary.  
Ours is an integrated multichannel survey system that gives a perfect visibility of the opinion of your customers through a tracker platform that's multichannel. Preside and then operate all the feedback you receive in a single platform to receive a complete analysis report in your dashboard. You can receive personal links, emails, anonymous links, SMS, Scan your QR code, also social media.  
You can integrate piHappiness customer feedback software with applications like slack, SalesForce, Google Sheets, HubSpot, etc. This software comes with advance features that provides effective analysis after figuring the size of survey feedback. We provide:  
Survey Summary, frequency rules, analytical reports, case management, distribution groups, survey authentication, setting up notifications, and redirections to set up.  
Our focus is on consulting, insights, and data, ensuring that the customer comes first because we focus on customer experience (CX) first. Its report says that among the most crucial factors that could identify what can make or break a brand is the customer experience (CX). Owing to the latest apps in customer experience that are taking this challenge to understand what customer is exactly looking for at every step of the buyer journey.  
Zonka Feedback is not only a Customer Feedback Software but also a Customer Experience Management platform that allows you to create any type of surveys through its ready-to-use templates, customize them as per your requirements, and send them to the customers through multiple channels like email, SMS, links, QR codes, iOS devices, Android tablets, and smartphones.
Its features include creation of metrics surveys like NPS, CSAT, and CES; advanced Survey Builder with pre-fill data feature, multilingual surveys, and whitelabelling of surveys. You get real-time alerts and notifications regarding survey responses, assign tasks based on customer feedback, take action, and close the feedback loop effectively. You also get advanced dashboard and reporting with reports like Real time reports, NPS reports, Text Analysis reports, Location Comparison reports, and more.
It's Professional Plan is for 2 users and gives 4 device licenses, allows you to whitelabel your surveys to create surveys with your own branding and style. In this plan, you get unlimited online responses, 10000 email sends, 100000 website visitors, and 500 SMS credits. It offers 6 pre-built reports and 5 custom alerts. It offers Zapier Integrations and Native Integrations like Zendesk, Slack, Google Sheets, Shopify, and more. It costs $79/month.
It's Growth plan includes 10 devices licenses, unlimited online responses, 5 users, and 8 pre-built reports.Along with Zapier Integration and Native integrations, you also get Premium integrations like Hubspot, Intercom, and Salesforce. The plan costs $169/month.
It's Enterprise plan provides personalized support with a complete feedback management solution. It provides 30 device licenses for 10 users, and 8 pre-built reports. You also get a dedicated account manager in this plan to assist you. For businesses looking for customized solutions, it also offers Custom plans with custom integrations over and above all the features.
Advantages and disadvantages of Zonka Feedback include – you can set criterias for real-time notification and alerts. You can choose to have alerts for all responses, detractors, or any other criteria set by you. The software is very easy to set up and use and also offers a Free Trial for 15 days. Disadvantage is that it's free version is yet to be launched.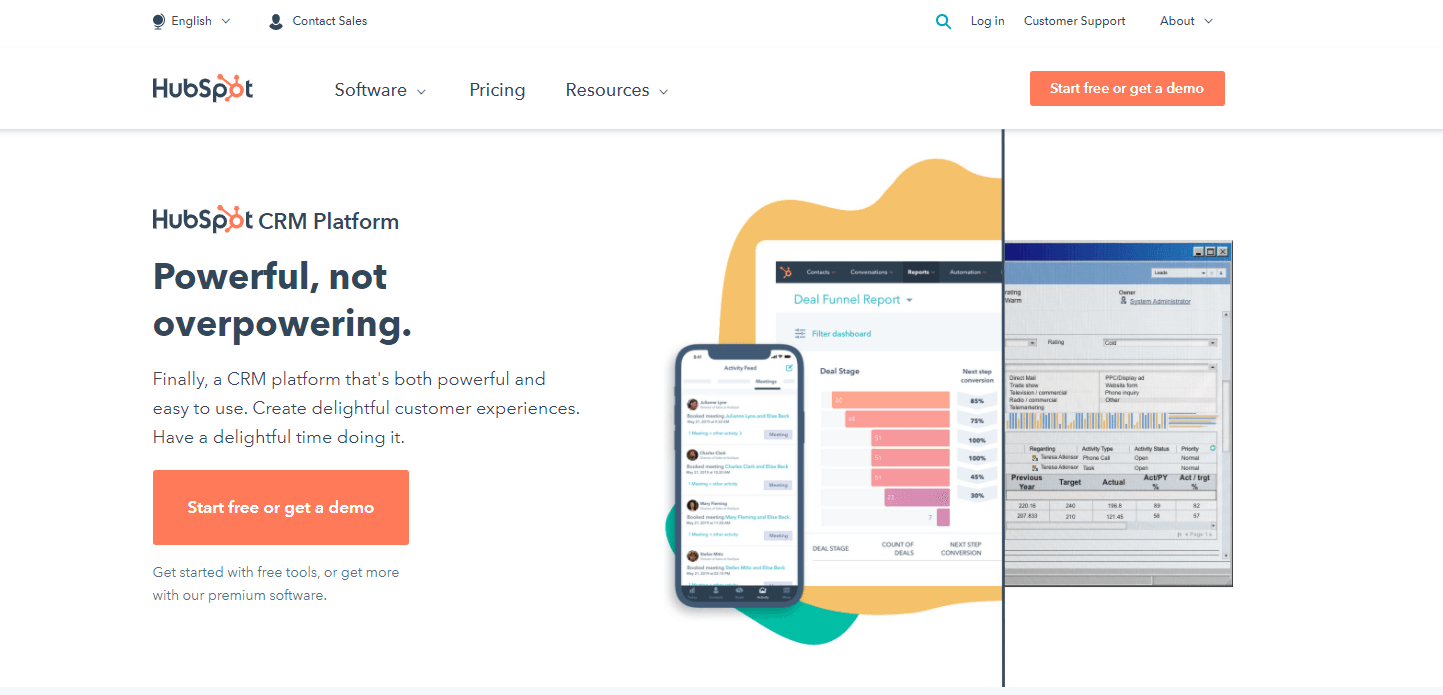 With the customer feedback tool of Hubspot, your business can capture quantitative and qualitative customer feedback through creation of surveys that can be delivered through email or via website. You could use Net Promoter Score (NPS) surveys towards measuring your customer loyalty, alternately send across customer satisfaction surveys (CSAT) to understand how satisfied the customers are at several points in their buyer journey. You could track your entire customer insights within a single dashboard such that every single member in your team remains in the same page.  
Prime features
The feature included in the starter plan are live chat, simple automation, and task queues. Included in the professional plan are – everything within the starter plan, the ticket status, ticket routing, task automation, ticket pipelines, video hosting plus management, custom reporting, NPS surveys, customer experience surveys, customer support surveys, insights dashboard. Included within the enterprise plan are – everything within the professional plan, custom objects, user roles, slack integration, field-level permissions, hierarchical teams.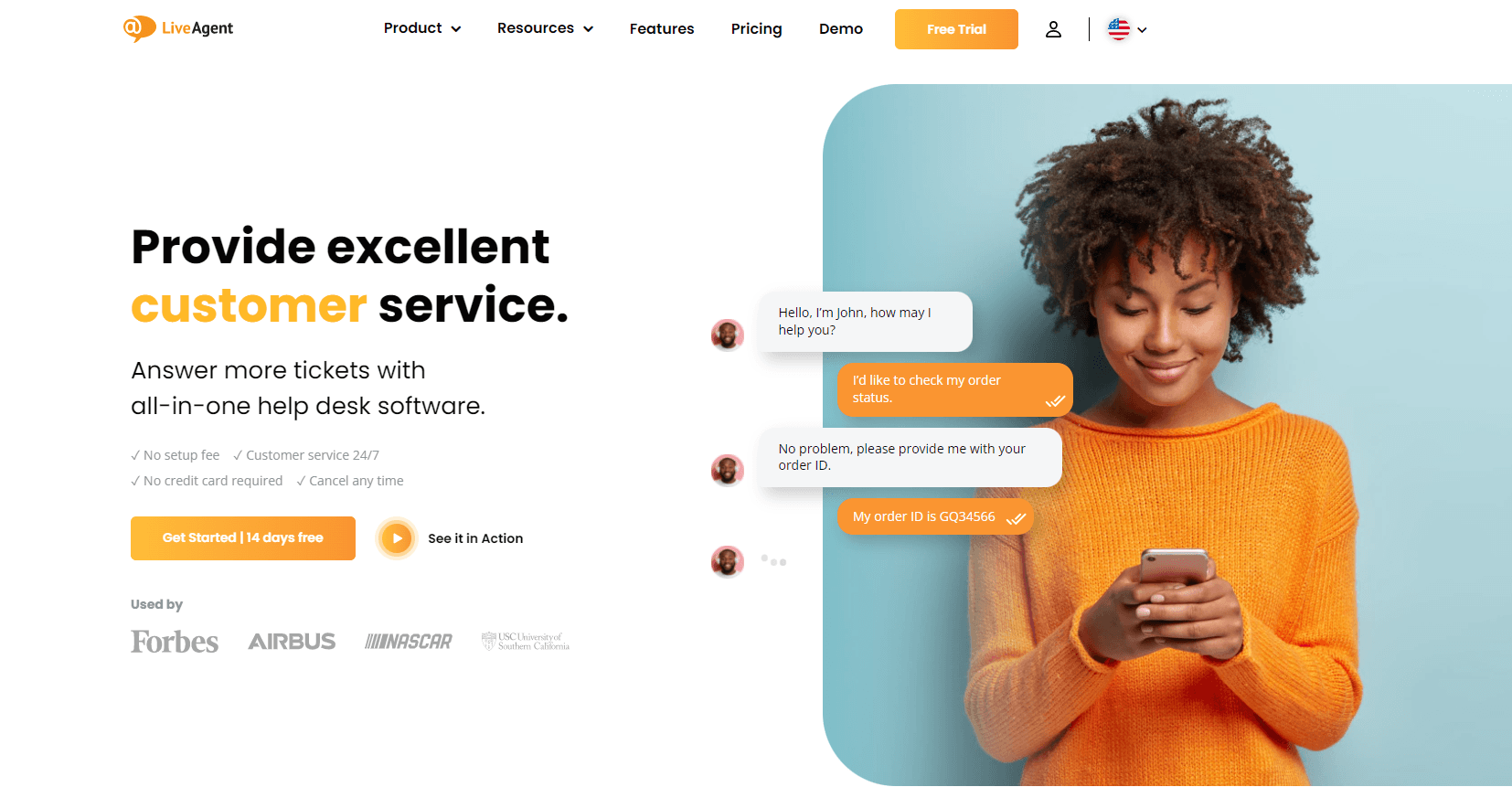 This is not just a customer feedback software. It not only allows you to connect with all your customers on every channel, it also provides you with some ticketing solutions, live chat features, customer insights, website visitor tracking, plus a lot more.  
You could manage your feedback from social media also respond to comments, messages, and posts using LiveAgent. Also, you could create email templates in sending surveys to your customers. You could also integrate with the survey tools like Simplesat and Nicereply. Moreover, the creation of feedback suggestion button and community forms could be easily implemented. A one vital customer service app, LiveAgent could offer highly sophisticated reporting and analytics features allowing to track key performance indicators (KPIs), metrics, and several reports like the time tracking report, availability of the agent, and their performance.  
All these could then be used in measuring customer satisfaction also allowing you to gather plus receiving and remains one of the most highly rated and reviewed software on several online platforms.  
All these could then be used in measuring customer satisfaction also allow you towards gathering and receiving unsolicited and solicited feedback. LiveAgent is famous for providing easy use, performance, and value. Its key features include, customer portal, contact forms, customer forum, email ticketing, live chat, Ticket history, Real-time dashboards, API, Contact form widgets customization, chat widgets customization, analytics overview, performance report, limited integrations. Features available in the chat plan include – everything within the free plan, unlimited ticketing in email, unlimited live chat, ticket history that's unlimited, customization widgets in contact form, customization chat widgets, advanced reporting, all integration with the tools. Features within the all-inclusive plan are all within the chat plan and ticket plan, integrators to social media, features in call centres. 
The advantages and disadvantages are – It offers certain free plans so that you could attempt the software first before you finalize. Not just customer feedback, it fulfils many other needs. The cost is also rather economical while comparing with other software.  
The disadvantages are – there are no chatbots, plus the integrations are rather limited in the free plan.  

Do you require several types of questions like multiple choices, Likert Scales, open choices for your survey for your website? You can relax with SurveyMonkey to do all these and much more. It happens to be the best ever known survey tools that would help in the collection of customer feedback. It would allow you to customize all your customers also a wide range of essential features like automated reporting, customizing options and branding, permission controls, so on. It would allow integration with more than 100 plugins and apps so that organizing and gathering of customer data can be streamlined. The prime features included in the team advantage plan includes – survey sharing that comes with finer control, export outputs, collect all comments in a single place, shared library of asset for the surveys that are on-brand, free integration that comes with famous collaboration apps, unlimited questions and surveys, custom colours, logo, and survey URL, analysis features that are advanced, quizzes that come with custom feedback. Included within the team premier plan are everything within the team advantage plan, surveys that are multilingual, crosstabs, unlimited compare rules and filter, data trends, block randomization, surveys that are white label, and advanced tools for survey logic. Those that are included within enterprise plan are – everything that is in the team premier plan, unlimited access to API, branding and customization, user management, admin, and dashboard, migration and account control, tracking of activity, and a customer success manager who is dedicated.  
Advantages and disadvantages include – A free plan for you to try the software at first and then create an informed decision. You wouldn't have to bother regarding the security of survey data as it is essentially a survey platform that is security encrypted. The main disadvantage is, it is really difficult to operate as some of its several features are dumped inside a huge lot of clutter, also there are not many branding provisions.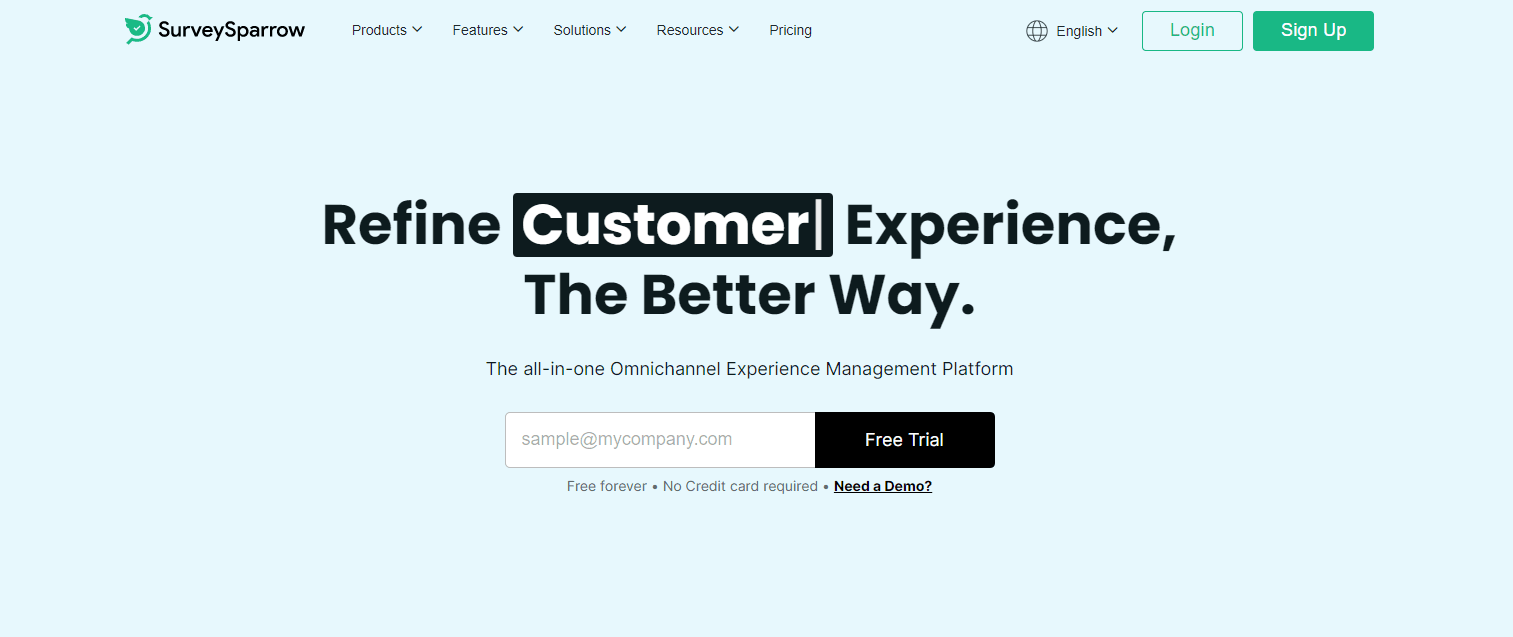 This customer feedback software promises that it would bring you almost 40% more response rates as it would help you build surveys that are engaging. They come with a conversational interface that would enable you towards creating interactive surveys. You could also automate and schedule survey distribution as they come with recurring survey features.  
The prime features included within the business plan are more than 25 thousand responses per month. 25000 email shares every month, 2 users included, white labelling, logo upload, adding logo to reports, smart contact list, case management, sharing via email, social, social, email embedded, link, SMS, and QR codes, file upload, custom domain name, and exporting to SPSS. Included within the enterprise plan are all the things that are in the business plan, more than hundred thousand responses in a month, more than hundred thousand email shares a month, include 10 users, an executive dashboard, a survey catalogue, unlimited widgets, word cloud, integrating through salesforce, and integrating through salesforce.  
Included within the elite plan are more than hundred thousand responses per month, more than 10 users, customized data centres, IP Whitelisting, management of sub-account, Single sign-on, Customized API links, mutual nondisclosure agreements, customer success manager who is dedicated, and audit log.  
Advantages and disadvantages are they come with rich analytics that would help you in analysing responses art spot patterns and question-level along with trends to help you understand your customer better. You could create highly intelligent surveys through adding variables, piping, and skip logic. The disadvantages include your having to pay an extra for the NPS questions even when you pick the costliest plan. It could take longer to load.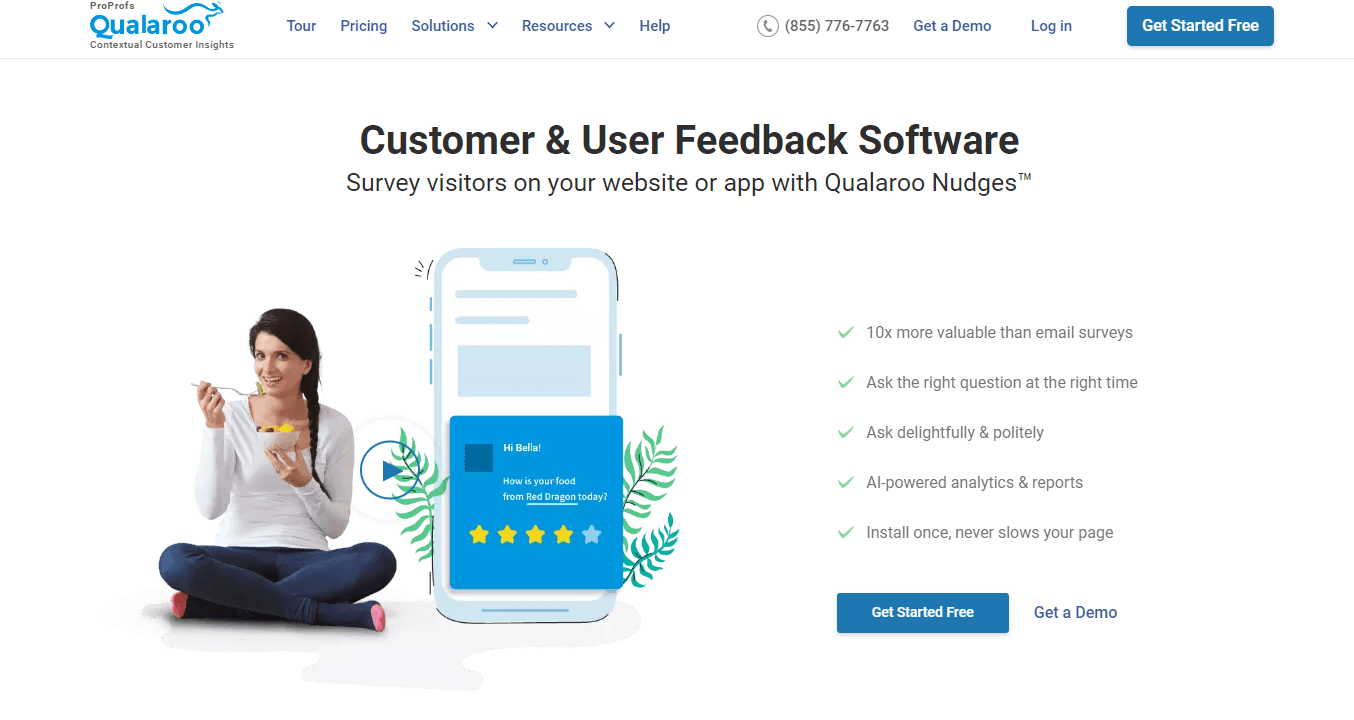 If you don't wish to send surveys using email, Qualroo has this fantastic feature known as nudges that would allow you to add more surveys to certain specific web pages also within your apps for you to gather valuable understandings. These kinds of surveys never slow down their speed plus disrupt visitors because they appear in a manner that is non-intrusive. They also give you sentiment analysis that would help you to understand the emotions all your audience feels plus experiences.  
The Key features included in your essential plan are – nudges, one user, basic types of questions, export data, analytics and reports, professional templates, branching plus skip logic, targeting, and nudge placement. Also included within the premium plan are all that are included in the essential plan, three users, advanced types of questions, exit survey, advanced form of targeting, NPS, smart response review, mobile nudge, basic integrations.  
Included within the enterprise plan are unlimited users, design and report APIs, vault, custom and advanced integrations, enterprise security, custom license, and ownership, also success manager and onboarding.  
The advantages and disadvantages are – by assigning the qualitative data also assessing relevant keywords that are used by the respondents, you could figure how your services and products would meet expectations. They come with survey templates to help you stay tuned and not start from the beginning every time. The disadvantages are – there are only limited colour choices where the default colour scheme is rather muted. Several add ons like that on Sentiment analysis, also white labels could make this customer feedback app rather expensive, mainly for the small businesses.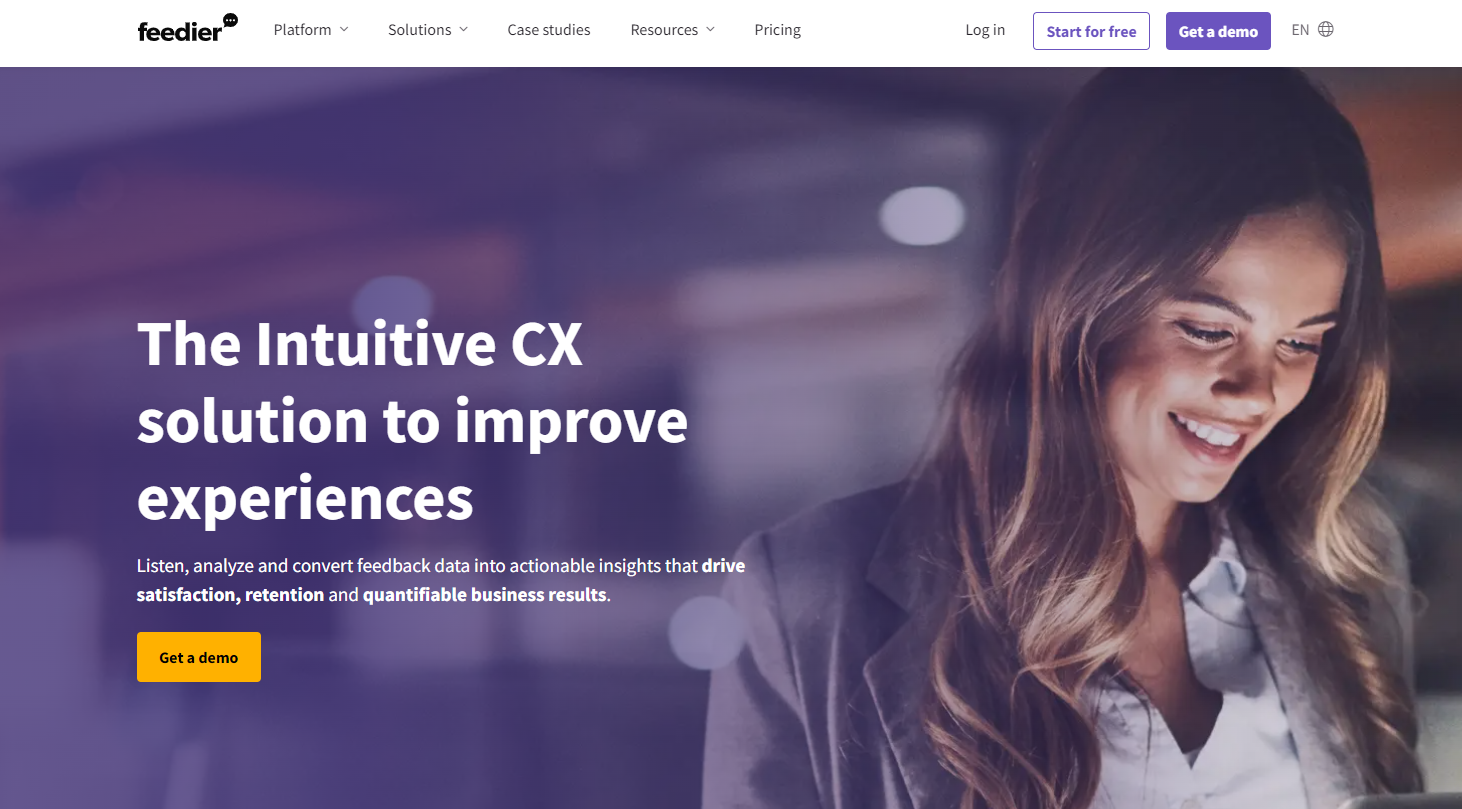 Have you got tired of drafting that same old survey every time? Feedier would enable in creating surveys that are highly gamified. Gamified surveys could come with several things, like the leaderboards, animations, personalized contents, and interactive questions for every respondent.  
Owing to the gamified surveys, you could reach also a greater number of people, also your customers don't have to waste their time in filling questions altogether. You could even import data from your third-party sources plus other tools of integration to enable you to analyse customer's feedback in much better manner. You could even import your data from the third-party sources also other integration devices so that you could analyse customer feedback in a much better manner.  
The primary features would encompass gamified survey builder, importer of feedback data, widegets, emails, SMS, etc. six channels, mapping the journey, visual analytics, customized reports, text analytics, customized reports, Geo report, actions automations, feedback assignments, access management, etc.  
Advantages and disadvantages of Qualroo include – you could set up automation so that you get feedback in real-time, this tool would also help you collect, analyse plus act on the Voice of Customer (VoC). The disadvantages would be taking some time to get accustomed to the different types of questions also understanding how would use them. The lack of integration could be a huge concern for certain businesses.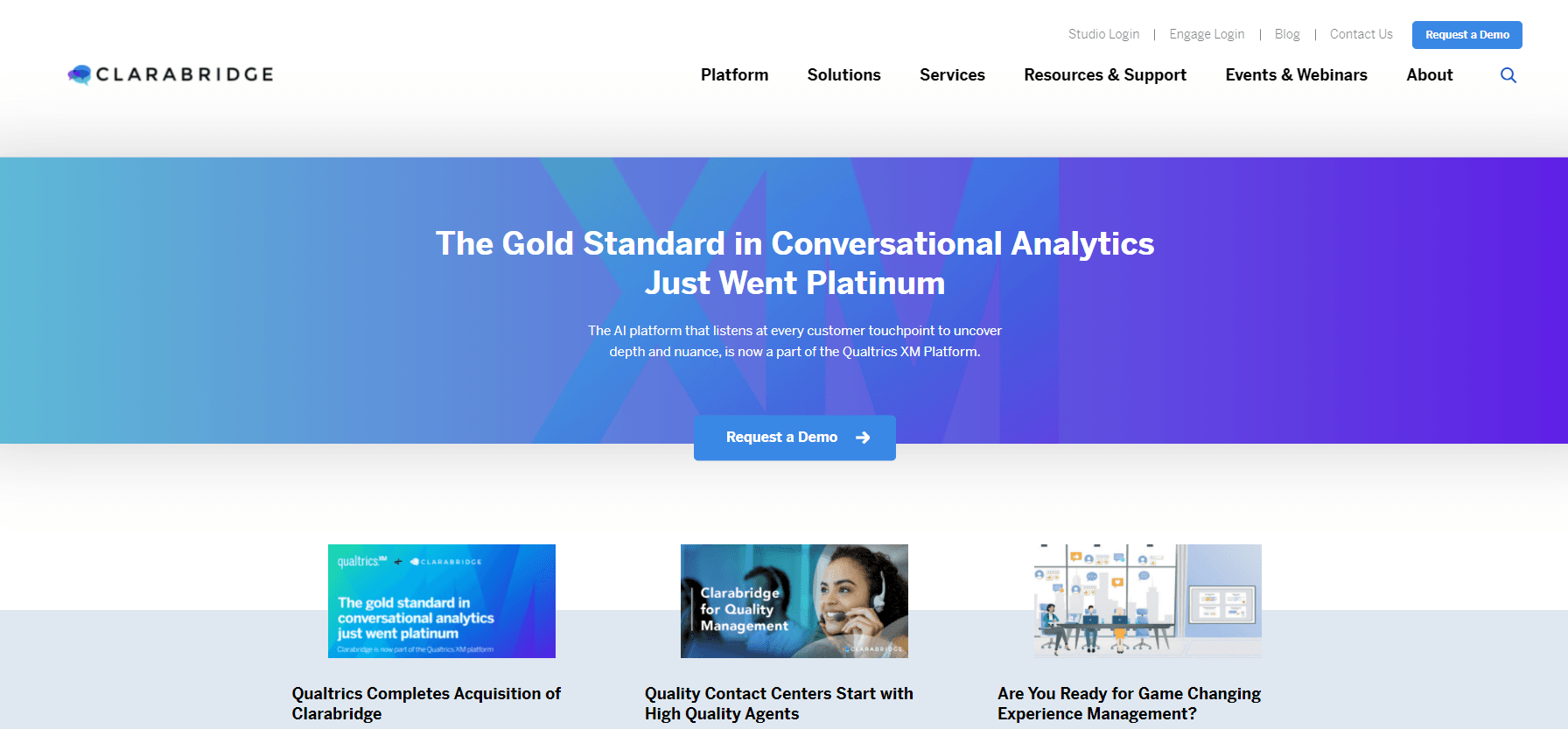 If you are wondering about what your customers talk about your popular blog while creating a proposal template, you can leverage Clarabridge that allows you to precisely do that. It is a platform based on Customer Experience Management (CEM) that would enable you to listen intently and connect to every sort of conversation from any source.  
It would help you to analyse sentiment, conduct emotion analysis also conduct intent detection. You could also rather automatically route issues to the right teams also set up those automated responses.  
The prime features include – personalized dashboards for every department, can identify 21 different kinds of intents, examine plus understand emotions, easy reporting plus categorization, gather variation degrees on 11-point sentiment scale, evaluate all customer effort, connect to numerous sources also collect customer feedback in a single place, engine for text analytics, integrating cross-channel conversations, and SLA monitoring.  
The advantages and disadvantages include – ability to draw actionable insights through collecting both quantitative and qualitative data, and the platform is also flexible to meet your needs. The disadvantages include a little more of the learning curve is required as it takes time to set up plus onboard the team. The customer feedback software lacks presentation, and you could need to export data into your Excel to create your charts plus graphs.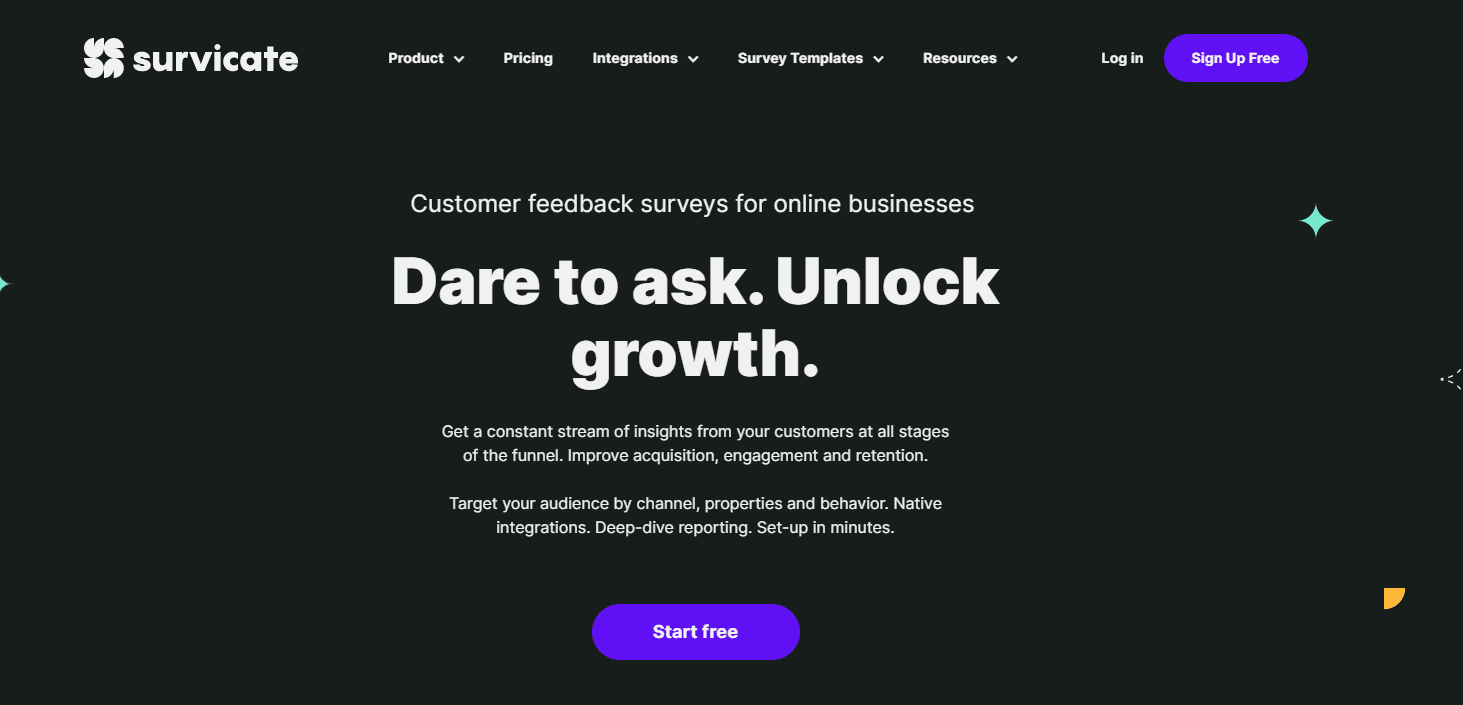 This is one customer feedback software that would indicate with several marketing applications like Hubspot, Slack, Mailchimp, etc. It enables you with targeted surveys at several locations on a certain website or send out those questionnaires through email. They also offer you CVS, chat surveys, and XLS exporting option, also NPS analysis.  
The prime features that are included in the free plan are – 100 survey responses every month, NPS CES, CSAT, plus 12 more types of questions, mobile surveys, web surveys, email and link, certain integrations like Intercom, and Hubspot, email notifications and Slack, skipping logic surveys, enrichment and respondent identification, 125+ survey templates that are professional, partial submissions, feedback button, and 1 month of data retention.  
The customer feedback software that includes within its essential plan includes – everything within the free plan, 1000 survey responses every month, easy export to XLS and CSV, integration to Google Sheets, attributes and answers piping, customized actions and thanks you page, feedback Hub, unlimited data retention. Also included in the professional plan are – everything that is there in the essential plan, 1000 survey responses every month, removal of survicate branding, custom design, advanced targeting, surveys that are automated and recurring, data export API, webhooks, premium integrations, and custom domain.  
Everything included within the ultimate plan include – everything within the ultimate plan, 50,000 survey responses every month, customizable unlimited number of responses, very cost-effective towards all high volumes of users and traffic, survey sampling, and SSO authentication.  
Advantages and disadvantages of Survicate include – there are several options for one pre-built survey, so that you need not create all your surveys from the beginning. The UI remains interactive also their feedback dashboard remains rather comprehensive. The disadvantage is you won't receive a notification pop-up for any kind of negative feedback, something that delays the follow-up action. Also, the analytics feature would lack adequate details.  
The USP of this customer feedback survey is its one question at one time feels like one live conversation with the respondents. This kind of feature enables the complete survey process to flow effortlessly and adds one human touch to the software. It comes with one user-friendly interface that would allow user to build apps and surveys without writing any kind of code. This customer feedback software helps to embed additional elements like that of images and videos so that your surveys are highly interactive.  
The prime features included in the basic plan are – 100 responses every month, one user, unlimited typeforms and questions, logic jumps that are unlimited, personalize with the hidden fields, webhooks, customized link preview. The features included in the Plus plan are – Everything that is in the basic plan, 1000 responses every month, three users, removal of typeform branding, customized subdomain, link preview that is customized, and redirect options.  
Features included in the business plan include – everything within the plus plan, 1000 responses per month, five users, question insights, Facebook pixel, embed features that are advanced, priority support, customized closed messages.  
The advantages and disadvantages of the Typeform are – It is one easy-to-use interface that would ensure that anyone could use the software plus build surveys, huge variety of templates. The disadvantages are the software is complicated towards creating more powerful survey questions, and the tools all need optimization to become highly mobile-friendly.  
To Conclude – 
The customer feedback software are designed to understand the needs of demands of the customers. It comes with these additional features where analytics and Artificial Intelligence (AI) and Machine Learning (ML) is enabling businesses to gather customer insights helping them build their business in a robust and global platform. These apps are giving an altogether new insight to the businesses so that they can build their entrepreneurial acumen to a great extent. This blog attempted to bring forward some 10 such software that is creating in a buzz in the market. The new age of marketing is all set and customer feedback applications are making it even more lucid.