The main force behind any business is a happy customer, a satisfied customer. If your products can satisfy your customers, they would refer your business to their peers. However, customers who are unsatisfied are more likely to put a negative word about your brand or business. This makes customer surveys important to misunderstand the level satisfaction you give to your customers.  
All credit goes to CSAT (Customer satisfaction score) a survey that allows your business to check if your customer is happy or sad with your product/service. The CSAT survey answers will help you to easily identify all those aspects of your business that will need improvement.  
With CSAT survey responses, you can predict: 
What customers expect from your business

 

How customers will behave toward your product

 

Buying behaviour plus habits of your customers

 

Newer trends in industry

 
Method of Collecting CSAT Surveys
CSAT software enables you to collect your CSAT surveys. CSAT tool works as one comprehensive platform that can create, distribute, analyse, and manage Customer satisfaction surveys. It also enables you in creating and collecting surveys through emails and websites. CSAT software even helps you in analysing the responses you receive in your survey and receive insightful reports out of those.  
How would you choose CSAT software?
Innumerable features are there in CSAT tool. This could create a lot of confusion in your mind, stopping you from making a precise decision. In order to solve this issue, certain features that are mandatory on your software are provided below:  
Tailor-make your CSAT surveys – An ideal CSAT software would give you the ability of personalizing how your survey should look and feel. You could customize also white label all your CSAT surveys adding logo, background, survey, and much more. 

 
Add some follow-up questions – Other than asking CSAT questions, the other way could be adding a follow-up question to the survey so that you could ask why the score is such. 

 
Adding Branching and Logics – Pick a CSAT tool that would enable you to display several questions on your selected score with the help of Survey Logic that you conduct on your CSAT surveys. 

 
Real-Time Alerts set for your Team – You could set real-time alerts for your team based upon your customer satisfaction score or other parameters in custom to keep your customers updated. 

 
Automated Notifications sent for Respondents – A proper CSAT tool allows your team to engage with the customers using notifications on the basis of their scores. 

 
Receive access to in-depth Reports in CSAT – Pick a CSAT software, something that would give you the ability of accessing real-time, clear and deep CSAT reports CSAT Trend Report, Meter Report, CSAT that is location-based, Text Analytics plus much more. 

 
Third-Party Tools and API Connection – Choose one tool that would allow you in triggering CSAT surveys through Business system APIs integrations to your favourite survey tools. 

 
Close your Feedback Loop – One good CSAT tool enables you in creating tasks for your team, take actions plus close the loop. It would further prevent your agitated customers from churn. 

 
Thinking of taking a CSAT software for your business to analyse what your customer things of you? Check these 10 best CSAT software that could help your requirements:  
piHappiness  

piHappiness is a multi-channel system of feedback with actionable insights, reporting that is real-time, and an inbox that is collective. You could measure customer satisfaction in real-time with CSAT surveys.  
This feedback software provides the Survey Builder that helps you to tailor make your survey using logo, theme, with brand image, and so on. You could also add some follow-up questions on the basis of score that would allow your customers to share their feelings on the comment boxes.  
The Feedback enables you to view plus track real-time responses of your survey. The dashboard comes with different options that can filter your responses, add certain tags so as to identify the themes, search by your customer comments and name, and more.  
This software helps you to view plus track survey responses in real-time. The dashboard comes with several options that filters your feedback add tags so that you could identify themes, search by your name and more. You could also add a follow-up question on the basis of the score that allows your customers to share how they would feel in the comment boxes. This gives you the first hand understanding of their experience.  
To construct adaptive mobile surveys also track responses, piHappiness is the best software so far. When your business engages with mobile surveys it requires audiences to use the personal digital equipment of them, like the tablets or android or smartphone. Audiences could complete surveys at their time of convenience. You can increase the engagement with short interfaces and engaging interfaces. You could also gather information with statistics studies and market studies.  
SurveyMonkey 

Create your polls, surveys, quizzes so that you could collect feedback from your customers with this CSAT tool. The software comes with a huge array of questionnaire in CSAT with follow-up questions. With SurveyMonkey, the business can distribute your SCAT surveys using emails, social media, weblinks, and chats. You could also integrate your SurveyMonkey using third-party software so that you could automate the workflow.  
Qualtrics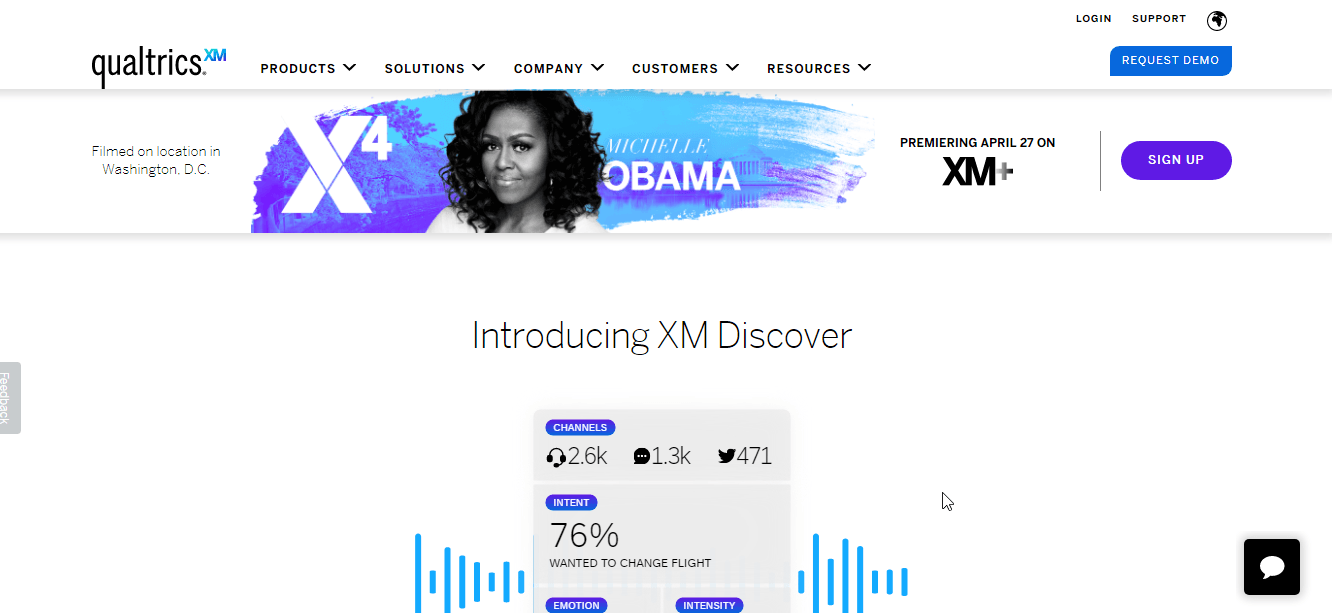 This software measures plus optimizes your customer experience using CSAT surveys. It comes with multiple features say 50+ templates in survey, 100+ types of survey questions, Qualtrics helps you in creating periodic and post-traumatic satisfaction surveys. Qualtrics comes with core analytics abilities to analyse the responses of the surveys through a wide array of visual data, that includes 30+ graphs. It also turns your complex customer information into useful information.  
Delighted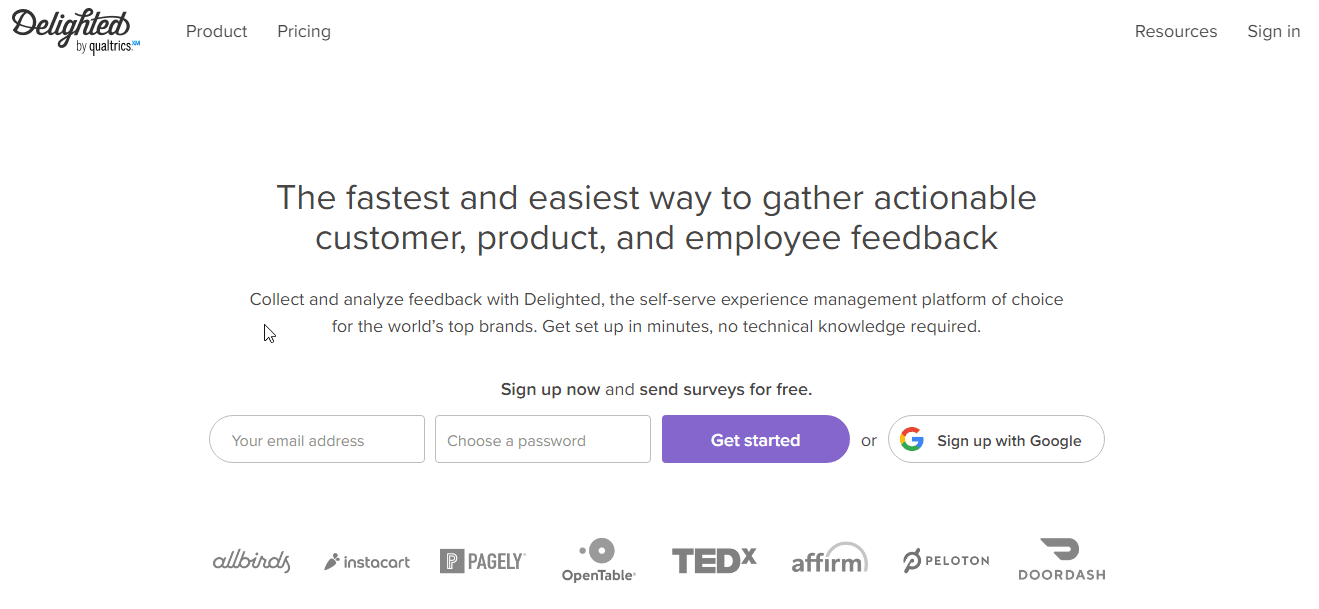 Apart from CES and NPS, this CSAT tool provides one user-friendly survey platform that enables you to create lovely SCAT surveys in as many as 37 different languages. This software's survey builder makes sure there are better survey questions like the rating, Likert scale, Thumbs surveys, and emoticons. Delighted software comes widely known for the wide collection that provides useful integrations.  
Typeform  
Make the CSAT survey of yours an interactive and user-friendly interface that comes with drag-and-drop features. You could seamlessly trigger CSAT survey questionnaire on the business website using on-site top tops, push notifications, and buttons. Typeform gives a variety of survey questions like the MCQs, rating scale, image-based questions, and Likert Scale, etc. You could also automate your workflow using powerful integrations using Google Drive, Mailchamp, Slack, and much more.  
QuestionPro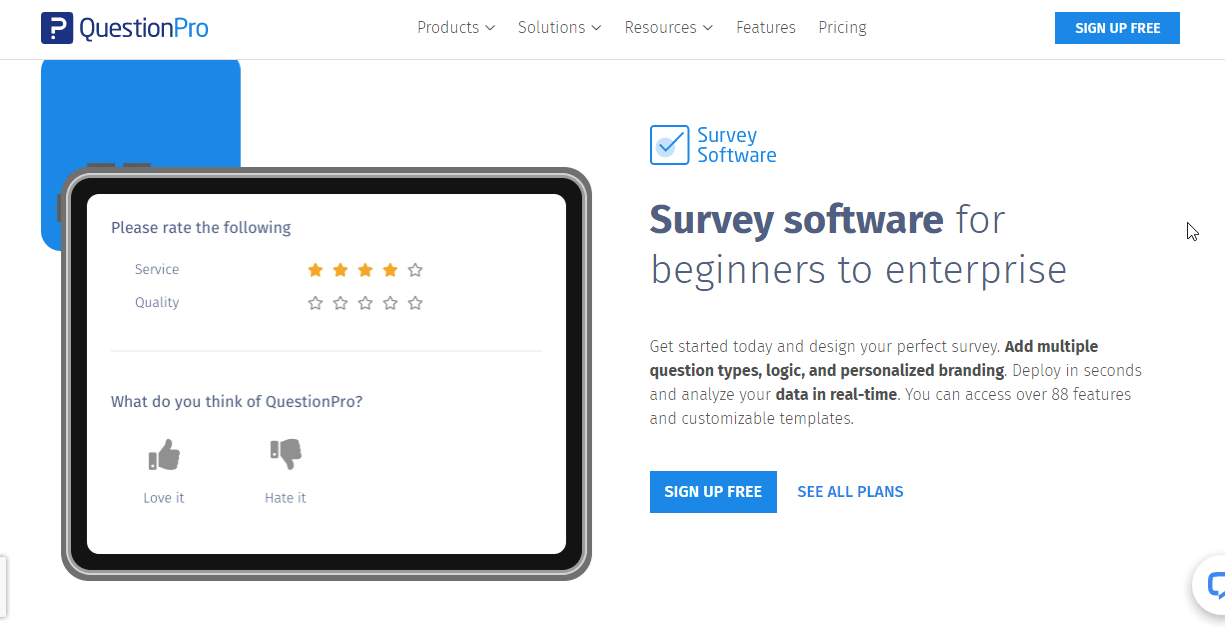 The QuestionPro CSAT software provides 250+ survey templates that are customized, more than 30 types of questions, 5+ languages so that CSAT survey polls are created, quizzes, and polls. The software comes with reports and analytics that makes analysis insightful and simple and helps you convert customer data into actionable info so that people can make informed decision. QuestionPro keeps your customer data secure using PCI/DSS, FERPA, HIPPA, GDPR, ISO compliant.  
Zoho Survey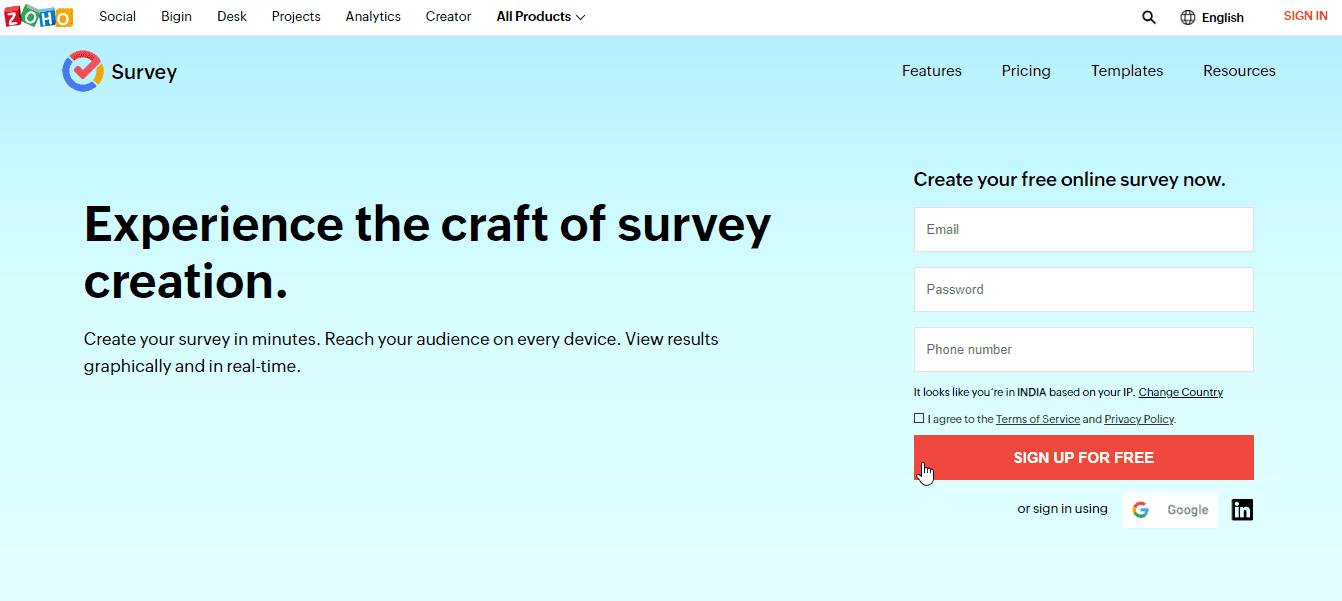 Zoho Survey comes with a huge rage of survey templates, more than 200+ types of survey questions, over 30 languages so that audience appealing CSAT surveys are provided. You could analyse the CSAT experience survey feedback using a huge array of survey reports that help you towards analysing your responses on survey on the basis of sentiments, Word Cloud, and TURF.  
Jotform  
Yet another robust and powerful survey software used by the non-profits, educational establishments, SMEs to create CSAT feedback forms is the Jotform. This software enables you in sharing SCAT surveys through links, QR codes, website embeds, and social media shares. Jotform provides several integrations that can automate your workflow.  
Nice Reply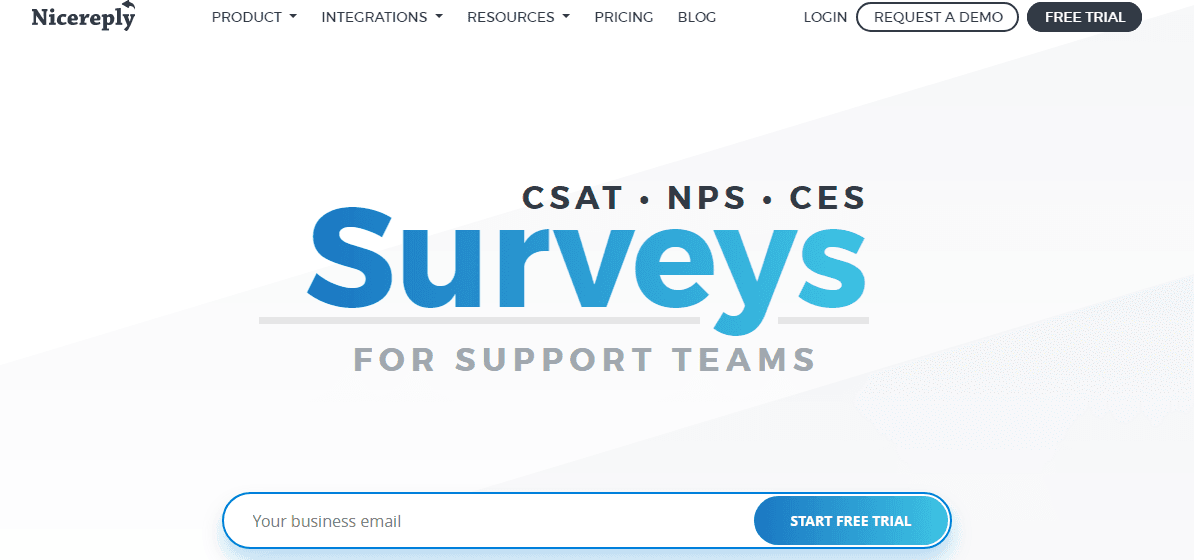 The CSAT survey tool of Nice Reply helps you in conducting, distributing, managing, and tracking the CSAT. Moreover, you could also monitor close the feedback plus spot dissatisfied customers, check the reports, time filters, charts, and comparisons.  
Qualaroo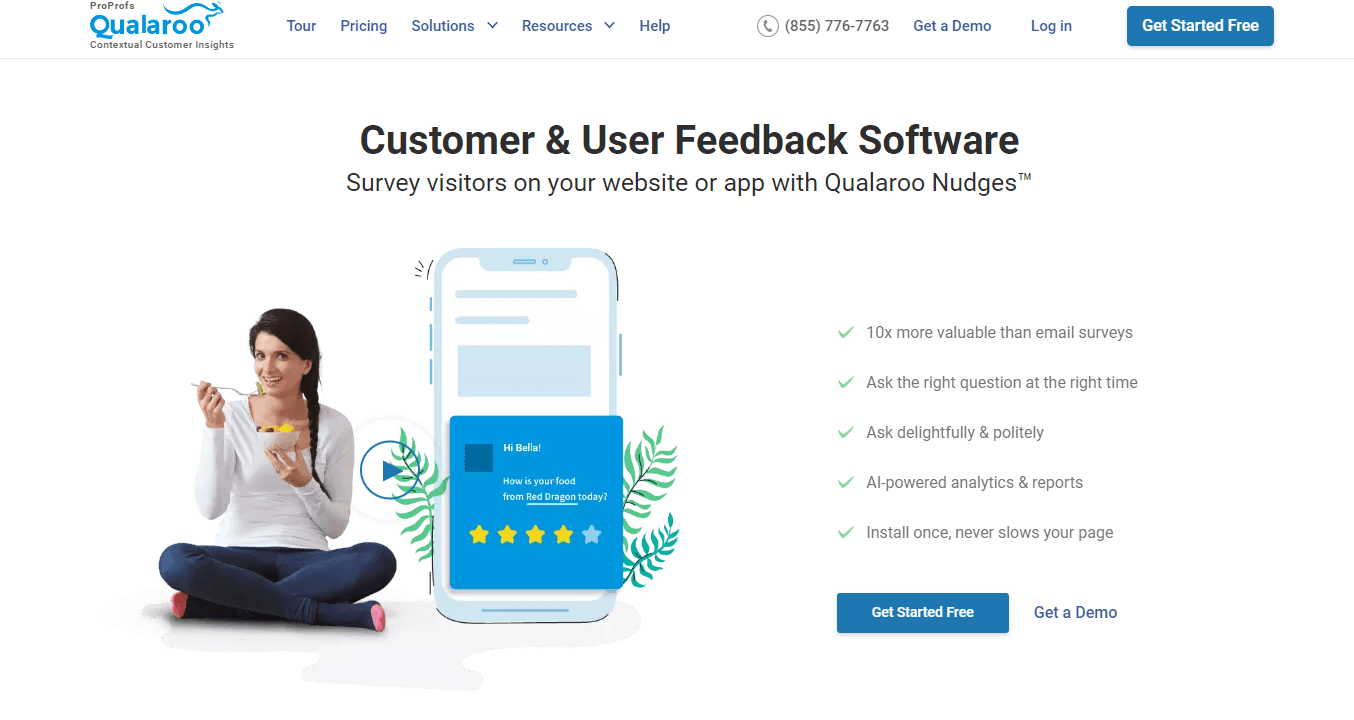 This CSAT software helps you in capturing CSAT feedback using the brand nudges. Qualaroo enables designers, project managers, and developers to quickly work on CSAT surveys at a level of transaction on the basis of negative, positive, and neutral attributive expressions like joy, anger, fear, disgust, and sadness.  
To Sum Up
There are several aspects of customer service, providing absolute satisfaction being one. The CSAT software/tool helps in creating the best understanding where the customer can reflect his/her impression easily. The article was all about bringing forth the 10 best CSAT tools that can help you gauge your customer's reactions.