Customer feedback has a critical roleplay in improving products, increasing growth via renewals and upsells, also serving up one all-around excellent user experience. However, this feedback doesn't hold much mettle if you can't integrate those insights and make those improvements that are possible.  
You know feedback can come in wide types of feedback formats- like survey responses, images, texts, and videos. The NPS scores plus more that is sourced from a huge source of platforms, which results in large volumes of most of the time irrelevant and highly differentiated data sets.  
The fact is, it is important to keep a stack of customer feedback that not just creates a smooth collection process, but also would keep the things set in a place to ensure nothing slips through the broken edges, all along keeping your customers within your loop at the same time optimizing your experience, services, and products.  
In case of the above content interests you, you could check with us some of the customer survey/feedback software – to enable management of all your feedback efficiently, capturing real-time insights of the users, or the launch surveys that people would love to complete actually.  
Best 5 Customer Feedback Software for 2022
Not all feedback is created equal and not even all customer feedback software is the same. Some of the specific industries like eCommerce, SaaS, or all local businesses, while the others put their focus on a specific kind of feedback like the NPS scores or the reviews that are user-generated.  
Ultimately, what kind of tools you select will depend on whatever you are attempting to measure, what pattern of business you run, and the kind of products or services you offer. Let us check some of the 5 best customer experience tools that exist in the market, what are their USPs so that you get an understanding of what you could include in the stack of your customer feedback.  
#1. piHappiness  

piHappiness is one customer feedback software that gives you the convenience of getting everything at your fingertips. You could monitor all your surveys also receive instant notifications on your personal devices. You have readily available reports and dashboards available whenever you are in need for you to explore the data as best as you want. You can ensure easy access to the information on the survey summary as our feedback/experience software come with some of the best features.  
We come with an integrated multichannel survey system that gets you perfect visibility of the opinion of your customer through our multi-channel tracker platform. Preside over and operate every feedback that is received in one platform to receive one complete analysis report inside the dashboard view. It comes with essential features like – personal links, email, anonymous links, SMS, Scanning QR code, and social media.  
The customer feedback app comes with advanced features for effective analysis also sizing of the survey feedback like Survey Summary, Distribution Groups, Frequency Rules, Survey Authentication, Analytical Reports, Set Up Notifications, Case Management, and Set up Redirections, etc.  
#2. Zonka Feedback
The success of your customer feedback campaign depends a lot on the kind of tool you select for your business. For example, most retail brands require their basic necessity to be fulfilled – being able to collect feedback at different locations with just a single piece of software. Zonka Feedback is one of the top customer feedback tools with all the much-needed features and even more! It is the fastest way to collect real-time and offline feedback from customers and fetch detailed and actionable reports.
Key features: Offline survey feature, multiple channels to collect surveys, real-time alerts and notifications, APIs, Webhooks, and Integrations, reports across primary CX metrics NPS, CES, and CSAT, and more.
#3. Typeform  
This is one versatile tool for data collection that makes it rather easy to create questionnaires, surveys, and intuitive forms that present questions one at a time – something that allows your business received more thoughtful responses and greater rates of completion.  
This application includes templates that are pre-built plus an interactive editor, built-in video and photo libraries plus conditional logic that brings the right follow-up questionnaire so that a more conversational experience is created for your end-users.  
Prime features:  
Conversational form and survey builder, conditional logic, survey analysis, and integration with a huge range of business tools.  
#4. UserReport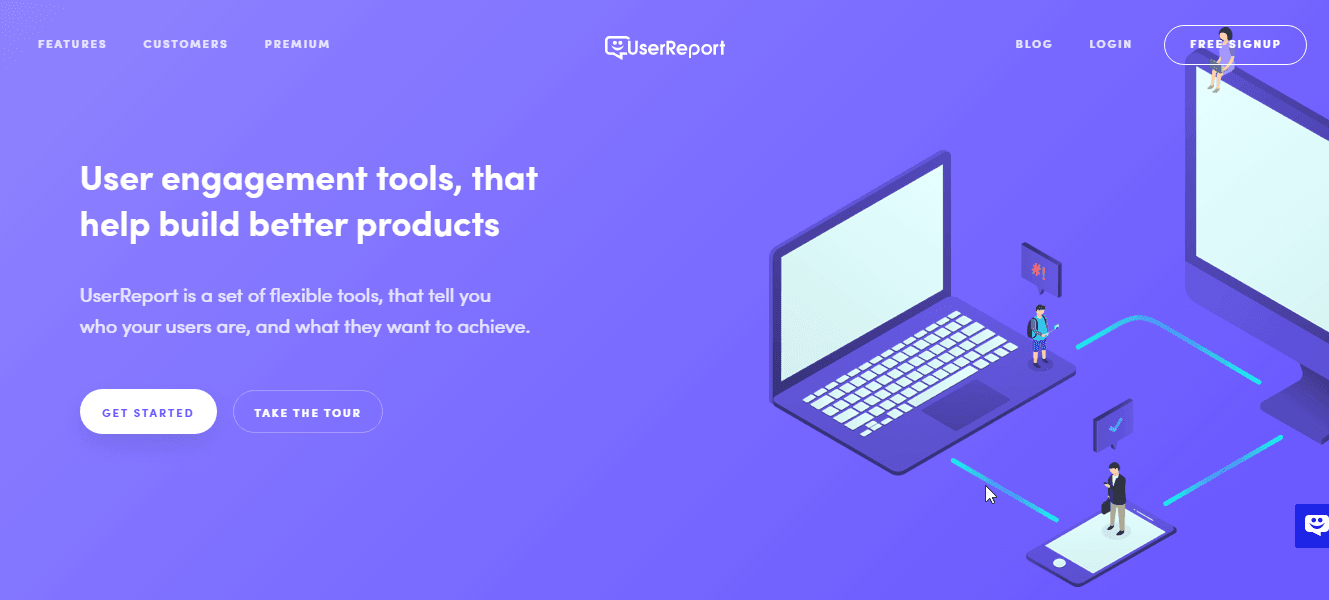 This is a customer feedback application that is based on two main types of widgets: feedback and survey widget. The software runs as one integrated part of your mobile or website app and allows you indirectly interact with the users, capture insights from the real-time website visitors, and identify how your customers feel you could improve.  
Prime Features:  
Survey widget track NPS, user satisfaction, and dig into the audience demographics.  
The feedback widget would collect feature requests, fixes bugs, plus insights into how you would be able to better user experiences. Moreover, UserReport would allow you to ask users to vote on the feature requests, thus it gets easy to prioritize the ones that stand to create the best impact. It also comes with publisher tools.  
#5. Canny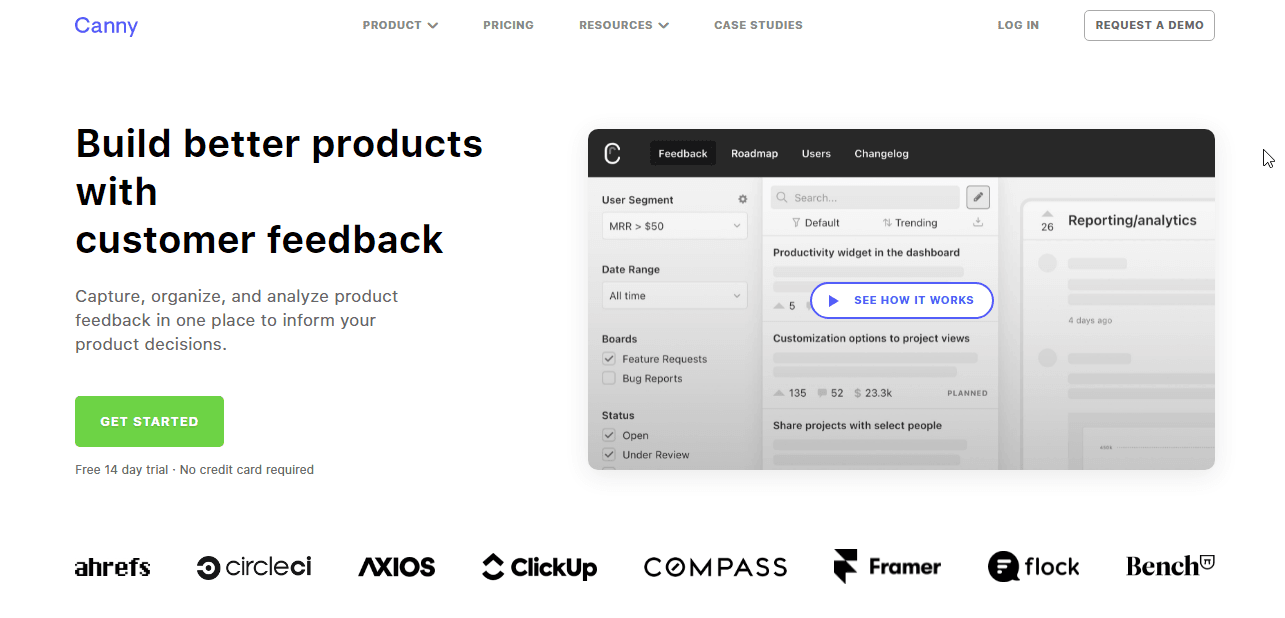 Canny is one customer feedback app and platform encompassing feature requests that help businesses capture, then analyze, prioritize, and further track feedback so that your business can plan also to prioritize product features and releases.  
The platform would allow you to collect feedback across multiple channels also automatically organize all the collected insights into one list that could be used in informing your business roadmap. You could also allow the customers to post the feedback straight away from your app or website and vote on those improvements they would most like to see-enabling the brands to seamlessly prioritize the features plus fixes that the customers really care maximum.  
While this customer feedback software is a wonderful tool to provide feedback, the process required to close the loop with the users is totally manual, also the feedback received in Canny is not connected to any kind of customer data via a CRM, so that your business wouldn't have as much of context towards who is requesting you also the reason why.  
Key Features: 
Collaboration and ideation, capturing multichannel data, product roadmap, idea ranking, management further prioritization.  
To Sum Up: 
There are several customer feedback software that can create a huge difference in your business. Some of them come with these advanced embedded features like artificial intelligence (AI), machine learning (ML), and a host of other attributes that can help you create a business that is way ahead of your competitors. Understand the power of customer feedback tools that can benefit your industry in a way you never thought was possible.