Are you looking to conduct NPS surveys so that you could measure your customer's loyalty to your company? Do you seek the best Net Promoter Score (NPS) software that will best suit your needs plus preferences?  
A good business would go beyond its limits towards keeping its customers happy. Yes, there are several customers. But is also true that a thousand other players are there in the market. So, it is better not to allow a single customer to leave you and go to your competitor. At this point, metrics like NPS could help you. NPS is all about maintaining your customer's happiness. It measures how willing is your customer to recommend your products to their peers.  
The best way to maintain your customer and acquire more customers is through using NPS software.  
Check the Best NPS Software in 2022
Let us compare the 8 best feedback software available in the market.  
piHappiness

Zonkafeedback

Promoter.io

 

SurveySparrow

 

Delighted 

 

Nicereply 

 

AskNicely 

 

Wootric 

 

A highly intuitive, adaptable, and flexible platform to manage customer experiences. The ideal customer retention partner plus loyalty delivers on the promise of data collection of customer insights with a wide variety of features.  
Using this feedback tool you could find employee hierarchy being able to delegate responsibility for the account that is given to several administrators with access to this account data.  
You could use your contact list to upload contacts directly to your system. You could provide access that is role-based to the contacts through defining such roles.  
By defining organizational hierarchy in silos across brands, industries, or entities to acquire better control through several roles.  
You could add several organization entities like branches plus subsidies to your account so that you could manage multiple accounts in one single place. You will never miss an opportunity for a survey or feedback with the piHappiness NPS survey tool.  
piHappiness comes with NPS and 360-degree real-time feedback, which is a superlative mix of quantifying student improvement.  
This Feedback Software and Survey tool is one of the most easiest yet effective platforms to measure, analyze, and grow customer loyalty with NPS Surveys. It allows you to create, send or trigger NPS Surveys to engage with your customers at every touchpoint and measure Customer Loyalty.
With Zonka Feedback, you can create customized surveys and send them to your customers through multiple channels like email, SMS, iOS devices, Android tablets, and smartphones.
Some Effective Features of Zonka Feedback
Create Dynamic surveys with features like Skip Logic, Hide Logic, and Survey Redirection.
Ready-to-use templates and question types to measure feedback from everyone from various industries – patients, employees, students, and Clients.
Create Multilingual surveys (surveys in multiple languages) for diverse customers.
Real-time notifications for all survey responses or criteria set by you, like alerts for detractors.
Assign tasks to your employees and teams to take timely action on feedback and close the feedback loop.
You can measure NPS as well as other metrics like CSAT, CES, and eNPS too.
Trigger automatic NPS Surveys to measure Net Promoter Score at every touchpoint.
Survey Throttling feature to ensure that your customers aren't over-surveyed.
Real-time NPS reports and dashboard.
The tool works offline also, can collect response data for weeks, and sync automatically when connected to the internet.
It also offers a free trial for 15 days.
This feedback survey ranks as one of the most powerful NPS software that we have listed as this is a tool with no frills. Also, it comes with a highly intuitive dashboard where any brand can manage all it's campaigns rather easily. As this support is available in more than 27 languages, Promoter.io's back end and process are created in a rather simple manner.  
Best of features of Promoter.io  
The ability to throttle the survey counts sent during a time

 

You get an individual dashboard that comes with detailed analytics for every campaign

 

Filtering function so that NPS score can be filtered on the basis of several parameters

 

Integrating with several other platforms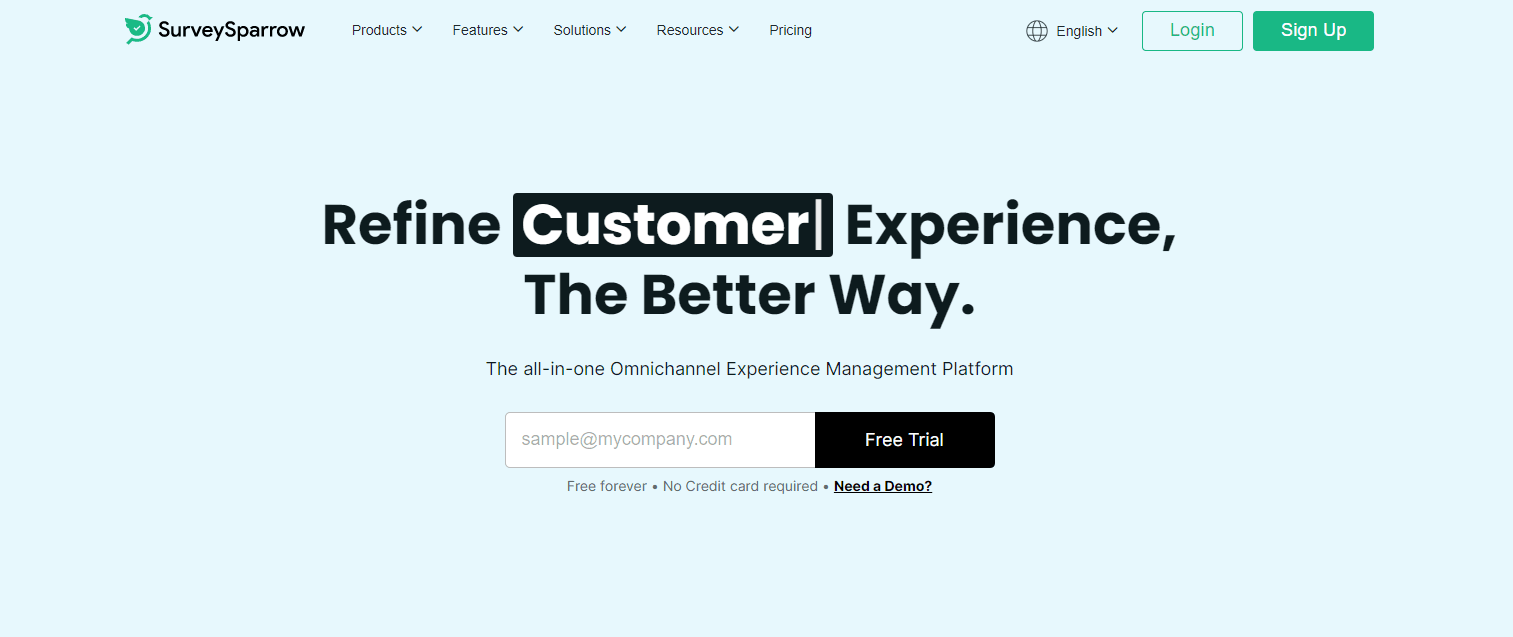 This feedback software comes with high recommendations, owing to the myriad features and the kind of support it has on offer. It has a conversational interface and is an easily usable survey tool to allow your surveys to turn into conversations.  
With SurveySparrow, your business could build surveys that are highly engaging and offers a memorable experience for your customer. Let us check some of the features of this NPS tool.  
Attributes of SurveySparrow NPS  
Both CSAT and NPS surveys are scheduled

 

Employee NPS Survey

 

Employee engagement surveys and 360-degree feedback

 

Dynamic lists plus preview functionality

 

Audience management, contact management, and segmentation

 

Conditional logic, skip logic 

 

Customer pulse and employee pulse surveys

 

Case management etc.

 
From the features mentioned above, with comprehensive visualization plus analysis possibilities available, you could glean valuable information to acquire better business decisions.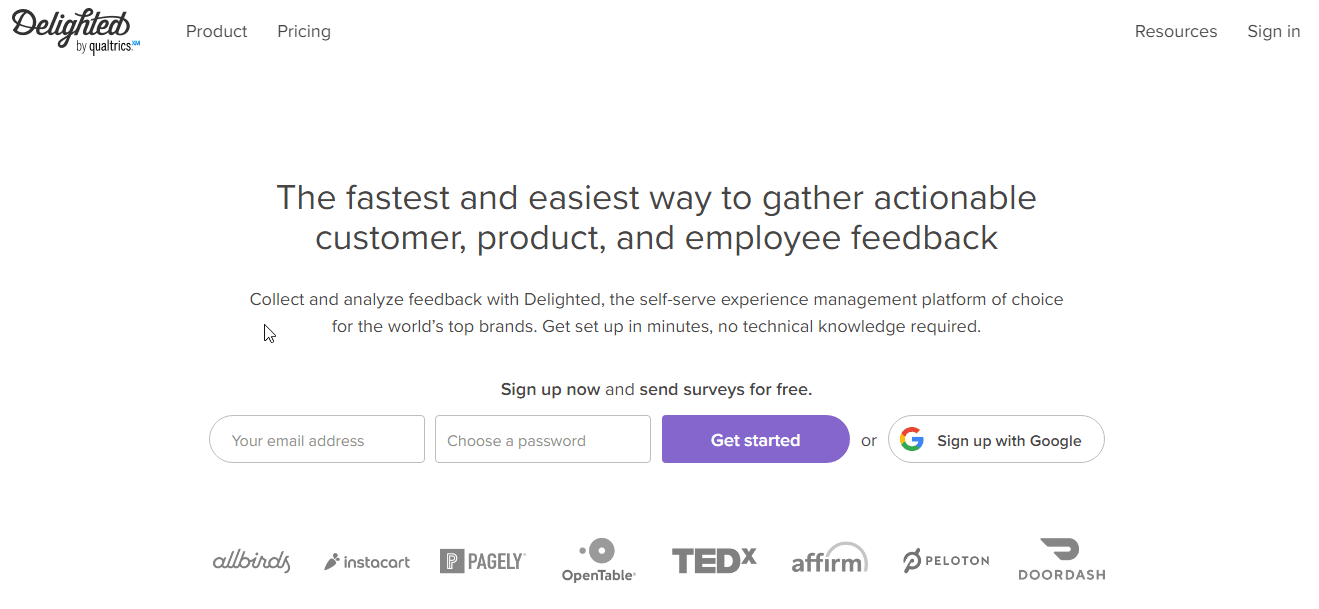 This NPS software is rather easy on the eyes and highly intuitive. Delighted allows for multi-dimensional survey methods like email, SMS, and web. The top features are: 
The ability to respond to the surveys on the email instead of having to use any kind of external link

 

Customization and branding options

 

You can see specific responses from the customers 

 

Real-time report and dashboard

 

Support is available for customers in more than 37 different languages

 

Survey throttling

 

Integration with several other powerful platforms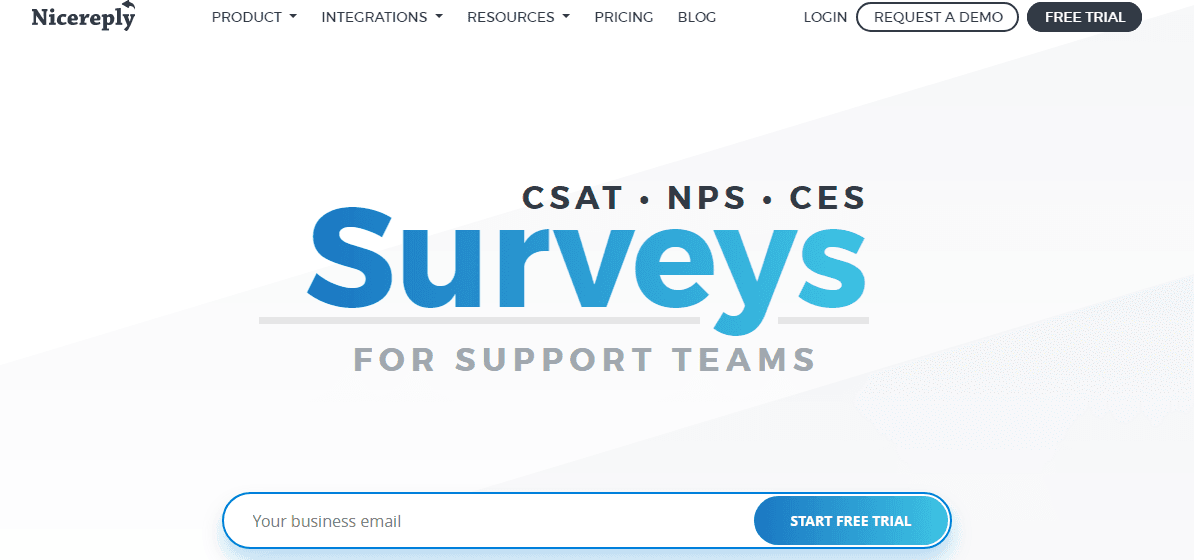 NiceReply is one of the most popular choices when you come to think to measure customer experience. The reason being they delay exclusively with the customer satisfaction surveys that would deal with surveys of customer satisfaction that include Customer Effort Score, CSAT, and NPS. The platform boasts of one impressive clientele like Hubspot, Lenovo, Microsoft, and Buffer – making it amongst the best NPS software for 2022.  
NiceReply best features 
A UI dashboard that is intuitive 

 

Follow-up Questions

 

Data range features included

 

Insightful reports

 

Displays data in your CRM and sets all triggers accordingly

 

Integrates with several other platforms like SalesForce, Zendesk, etc.

 

Survey customization 

 
The best part is, the feedback survey NPS tool aids in managing negative feedback, hence reducing the churn rate. All these provisions have made it one decent NPS software that you could rely on.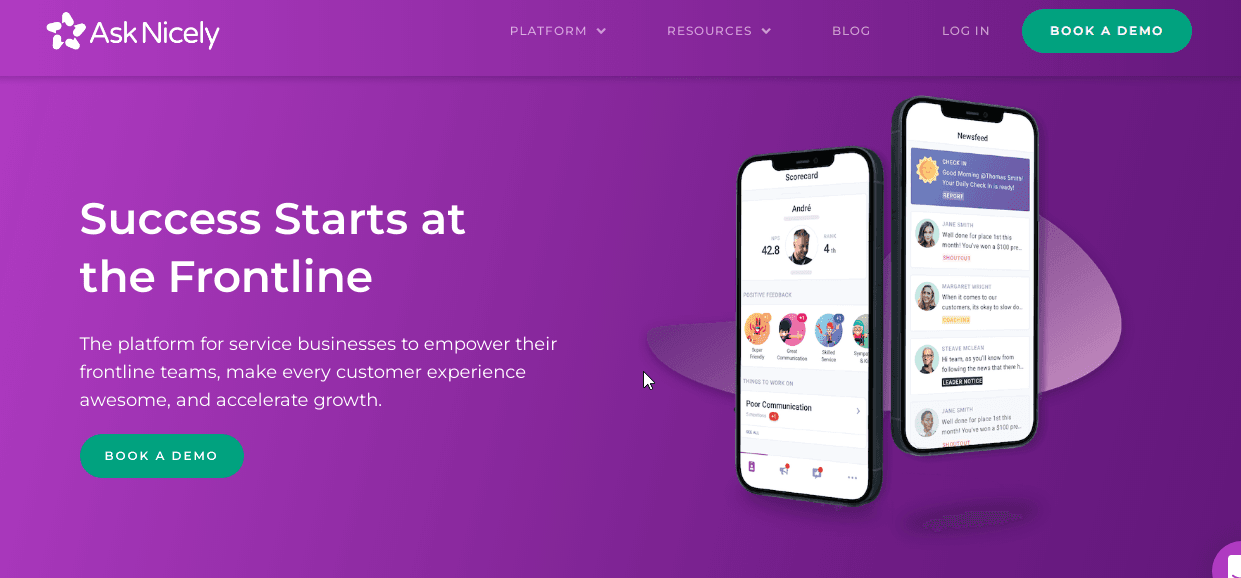 AskNicely is amongst the most popular marketing tools found. It is currently one of the best NPS software in the market. This tool can integrate easily with the CRM system, a significant characteristic for being considered the best NPS software. Moreover, this software comes with a leaderboard feature that allows you to segment first and then classify products, employees, and channels.  
With the NPS monitoring features of NPS, users are in a position to track the survey score in real-time also providing feedback. AskNicely also allows you to create customizable reports so that you could create customizable reports so that you could monitor business performance. 
AskNicely smart features  
You and your team could share real-time insights 

 

Integrate your CRM so that you could survey a bunch of customers automatically in your CRM each month

 

The logic of survey branching

 

Integrating with third-party apps

 

Scheduling daily survey

 

1-click testimonial publishing 

 

Survey offering that is customizable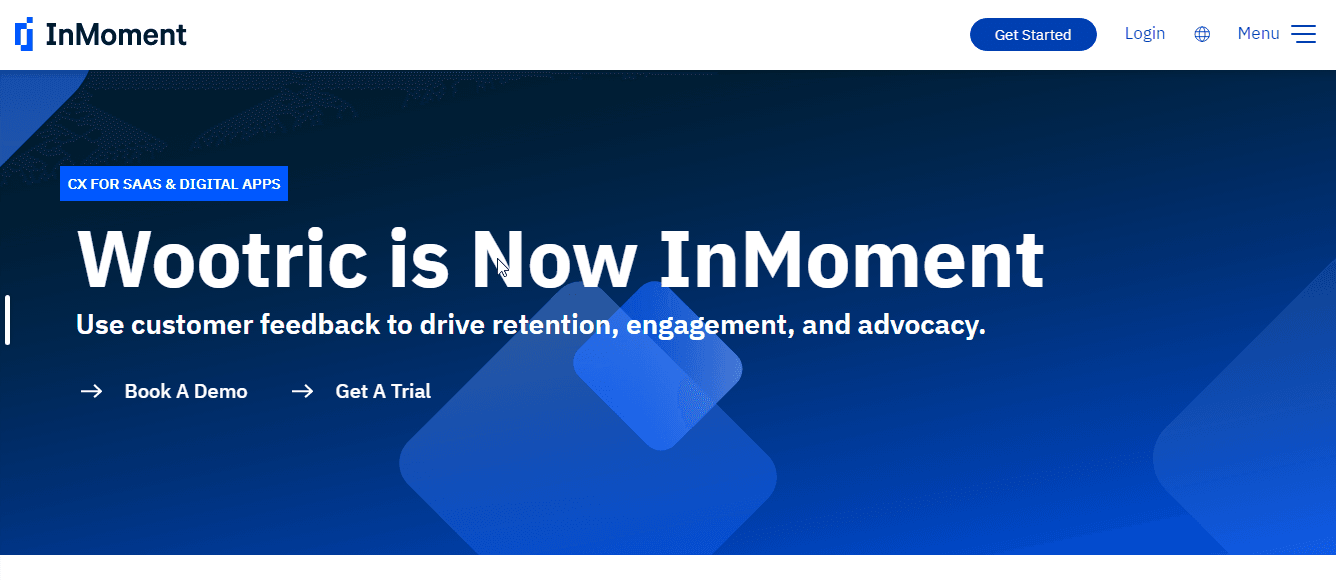 Wootric is understood for its ease and simplicity and easy setup mode. It can integrate with the right tools also automate the complete process of sending the surveys. It even performs basic NPS analysis automatically also collects certain qualitative feedback.  
As we are all aware, customers are generally hesitant about responding towards responding to email surveys. Wootric is generally hesitant in responding to email surveys. Wootric can reduce this by providing in-app surveys that would generate better results and a higher amount of feedback.  
Best features of Wootric  
Use Wootric through multiple channels like the web, mobile, email, and SMS without even thinking of duplicate sampling. 

 

Instant NPS analytics 

 

You can view NPS results through product account, version, or any other kind of user characteristics that you define 

 

Monitor customer retention and health plans 

 

Can integrate with SalesForce, Zapier, Intercom, etc. 

 
Wootric makes it seamless to see those trends over a period and allows you to take timely actions with outputs. Wootrics NPS gives you all opportunities to drill down NPS by your customer.  
5 Features that you could look for in your best NPS 
One can easily email the customers to receive the NPS. But the NPS usually lacks the benefits that one could receive from using an NPS survey tool that is specialized. Here are those reasons why you should use the best feedback survey available basis your requirements:  
Make personalized feedback surveys using your own branding and logo. Thus, you will be able to familiarize a greater number of customers with your product, your business.

 

Automate all scheduling of surveys. That way, you could reduce all your manual workload. 

 

Create effective follow-ups based on the responses you receive. Thus, you could manage detractors before they are able to spread any kind of negative publicity word-of-mouth.

 

Customize all your questions based on your respondents. Hence, you will receive the maximum amount of benefit from all your NPS surveys. 

 

Utilize the power of real-time reporting and analytics with one industry benchmark NPS tool. This is how you could better the NPS score gradually. 

 
To Conclude 
This article has provided a knowledge base on the 7 best NPS software that is available. Moreover, we have explained in detail the features also the benefits each come with. The best software has reporting and analytics features that help all businesses towards working on feedback.  
Identifying the best NPS feedback software for you is your ultimate goal. However, it also comes with the budget element that you would have to think about. So, make a considerable amount of research and understand the pros and cons of a Net Promoter Score software before you go to investing in one.